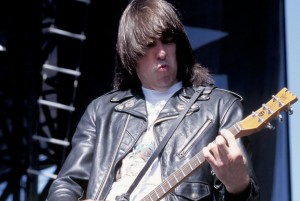 THE RAMONES. If you any question about the Heavy Metalness of this inclusion please play the "Rocket To Russia" album or "Road To Ruin" LP by THE RAMONES. They would pin your frame to the back wall when they strutted into a club. Manhattan, New York City was home turf to the band that brought Punk and Metal together. Johnny Ramone is long dead. If you have seen his grave site, you will have seen the man with his treasured guitar.
Johnny Ramone slung his guitar way down low and dazzled the audience with chord progressions that were played at frenzied speeds.
The other RAMONES had to think of stuff to keep up with him.
Johnny couldn't give a rat's arse about lead guitar. It didn't matter. He had volume and a beat and his brothers- in-arms and record after record proved how cool THE RAMONES truly were.
Everloving chums, Joey Ramone, the singer of THE RAMONES when he was dying of cancer, he recorded "What A Wonderful World" because he refused to be sad.
I, myself, couldn't help be smitten by THE RAMONES. They made me sling my guitar a little lower than I had been positioning it. As well, my band COLD SWEAT became a Metal/Punk excursion.
Gotta love it.
Album: "It's Alive" – in-concert April 1979 in London
Song: "Beat On The Brat" from the 1976 "Ramones" self-titled debut LP on Sire/ABC Records
– Rich Castle