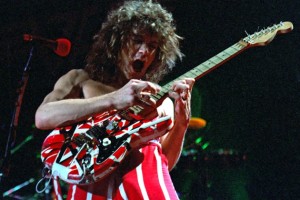 EDDIE VAN HALEN — tie with RANDY RHOADS – RIP, dead in a plane crash. I can't talk about him too much but please what the boy did on the first two Ozzy Osbourne solo albums was a stunning display of chops to spare. Album: OZZY – "Diary Of A Madman" — 2nd solo album from the SABS frontman. OZZY's best albums are with Rhoads. It is not that guitarist that would play with Osbourne's band were band. Actually Zakk Wylde, Jake E. Lee and others can play their as*es off. Rhoads is simply amazing. Song: "Laughing Gas" — guitar solo by Rhoads in the fledgling pre- Kevin Dubrow-fronted days of the band QUIET RIOT)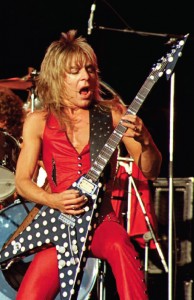 VAN HALEN made the unforgettable Metalized self-titled debut LP, "Van Halen" in 1978. That started a famous string of albums that lasted through 1984 with David Lee Roth as the flamboyant mouth- piece singin' the tunes, and mainstay-drummer Alex Van Halen playing his oversized kit.
Eddie Van Halen plays a very macho style where much flash is par for the course. So is a specially wired guitar. It has to sound like a rocket taking off when needed. Svelte use of the tremolo bar and overkill with notes and chords are the order of the day.
Muscle hot-rod cars and big-breasted women are on parade — lyrically, with the karate-kicking high-jumping Eddie Van Halen and Roth re-united in recent times for another go. Missing is Michael Anthony on bass guitar from the original foursome. But that is okay as he kind of sucked anyway.
Eddie Van Halen has played on a Michael Jackson smash-hit and he is well known to many outside of music circles from his Hollywood connections, mostly the volatile former marriage to actress Valerie Bertinelli. At least his son Wolfgang got to play bass guitar in VAN HALEN when the guy grew up.
If you want my advice, though, avoid all the albums that Sammy Hagar sings and plays on. Van Halen, as a band, couldn't have two number ones in the same band. Sammy Hagar's rampant ego trip couldn't hide the fact that he was no match at all for Eddie.
Album: "Women And Children First" 1980 LP, 3rd VAN HALEN studio album
Song: "And the Cradle Will Rock"
– Rich Castle