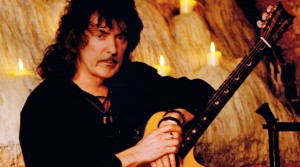 When I play music with my pals, I always feel the beat of the street in me. What I mean is that musicians like Jimmy Page and Ritchie Blackmore (DEEP PURPLE, RAINBOW and BLACKMORE'S NIGHT) brought to me the feeling that I had kinship with them. Because they can and do play; so can I. The music is what I am talking about. Not money. A true and earnest musician is a gracious and spiritual being, (or at least one should know to strive to be — ultimately).
Songs like "Smoke On The Water", "Lazy", "Highway Star" to name a few were belted out by DEEP PURPLE with the other man-in-black from the U.K. playing his badas* guitar like no- body's business with such volume and power and sheer authority that you wanna pick up a guitar (if so inclined), and certainly buy the music and see/hear the band. There was no audio-visual component and playing "live" till the mid-80's with the advent of MTV and the creation of VH1 here in America was still a medium that hadn't taken root yet. (Photographs, as primitive as it may sound, comprised the visual component. The famed Rock guitar god poses were compiled as the coolest looking guitars matched up with their players. Blackmore cut a dashing image of no-nonsense frowns with reverent concentration on hitting all the note that sung with a whiplash vibrato).
Ritchie Blackmore can be heard on the early DEEP PURPLE records going wildly from Classically-influenced Rock to a Prototype style of Rock that featured loud-and-proud guitar and single note soloing. "Hush" was an early tune that proved that Ritchie Black- more would be the uncompromising guitar hero who would be heard on FM radio. To like DEEP PURPLE meant being a supercool cat way back when.
LET ME INTERRUPT FOR A SPECIAL WARNING: DEEP PURPLE and RAINBOW featured killer keyboardists.
For Heavy Metal purists who think that the addition of a great keyboard player in the line-up makes things less "Metal" please f*ck off right now and read something else — Troll on.
Where was I? Okay, Ritchie Blackmore would make stone cold classic albums with 'PURPLE and then with RAINBOW. BLACKMORE'S RAINBOW is a towering album featuring the leather-lunged vocalist Ronnie James Dio. "The Man On The Silver Mountain" is beyond awesome. Ritchie Blackmore is a virtuoso on the instrument. The licks ands leads and phrasing have a solid etching in Classical Music. Blackmore is rife with precision playing, skillful note patterns nurtured by an inborn discipline. Yet no- one comes close to bending the strings like Ritchie and just wailing.
DEEP PURPLE were the loudest band in the world. It's official. Their decibels were measured.
Ritchie Blackmore, like many guitarists — a natural lady's man — married Candice Night and like storybook minstrels they dress up like it's Renaissance times, still, and then retire at night to their very own castle in the hills!
And BLACKMORE'S NIGHT with it's midieval atmosphere, with Candice singing (yes, she has sung "Smoke On The Water" as an encore) is akin to a modern day early JETHRO TULL, in feel and scope.
So what's Ritchie Blackmore have to do with Heavy Metal, exactly? Let me quote the moody Rock star himself from an article in the U.K.'s famed Kerrang! magazine. (Try this one on, from Kerrang issue # 82, Dec. 1984*:) "… there is an art to playing heavy rock 'n' roll, it's no use just cranking up the volume and being LOUD, there is a trick to it…" (*Geoff Barton interview)
Some have thought the man to be aloof, but Blackmore is naturally full of mystery. When he speaks he riddles in much the same manner of his guitarspeak.
– Rich Castle