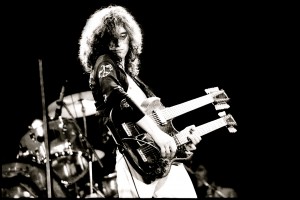 When one thinks of Jimmy Page and the band that ruled the Earth from 1969 till 1980, LED ZEPPELIN, they may think of "Stairway To Heaven" as it is the most well-known song ever to incorporate the style of Heavy Metal in it's construct.
Their debut album was to the year 1969 what RUSH would come to be recognized for with their LED ZEPPELIN junior debut LP "RUSH" in 1974.
LED ZEPPELIN smashed into the youth consciousness that wanted what JIMI HENDRIX was doing in his most heavy songs. Heavy music but as a band effort where each and every member, the singer (Robert Plant – ZEP) and the drummer (John Henry Bonham – ZEP) and bass player (John Paul Jones – ZEP) each were equally billed. THE WHO, THE BEATLES, THE ROLLING STONES, the CREAM, GRAND FUNK RAILROAD etc. were all great — but not Hard Rock taken to it's next J.R.R. Tolkien-flighted blaring step up. JIMMY PAGE helming THE YARDBIRDS and THE NEW YARDBIRDS would be the brainchild of the LED ZEPPELIN band.
One only has to look at the ZOSO symbol and the 3 other symbols that came to characterize each member of LED ZEPPELIN.
Jimmy Page can still turn up the heat and play his guitar like he's tossing out colorful cards from a tarot deck.
LED ZEPPELIN created the blueprint of all bands to go forward in their vibrant, self-reliant image.
As a guitarist, Jimmy Page possesses a rubberiness and dexterity to his guitar playing that students of the instrument well know of. While "Heartbreaker" and "Whole Lotta Love" can be learned and be a lot of fun to play, the solos aren't as easy.
The name Jimmy Page is stamped on the sonic fabric of every amazing classic LED ZEPPELIN song and all the subsequent stuff he would do with THE FIRM, THE LAW, and PLANT AND PAGE.
Page started as a session man, and you may be surprised at songs he has played on.
As a fan of Jimmy Page, I am going to cry out like many did during the band's signature movie and all the memorable concerts most of us were too young to have witnessed firsthand.
Jimmy Page, I shout out, you are "The Master!"
– Rich Castle