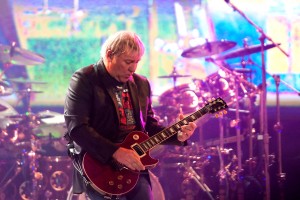 Haven't I written enough about Alex Lifeson, 1/3 of the Heavy Rocking Progstravanga band RUSH, without writing a book?!?
Alex Lifeson may not be suitable on his own, as the album "Victor" he made in 1986 tried to make a lyrical subject statement about the dark side of Love. Victor is a weird album (Weird Al?) that went to great pains to hide the guitar hero within.
With that unpleasantness aside, there is only one word for this man: Wow!
The band RUSH has made 20 albums in 40 years as a band together. Every one of those albums are waited with baited breath by their tried-and-true fanbase. They don't just come to hear the old stuff. They come to hear the latest! (check out my RUSH ELDERS CLUB on Facebook approaching 1700 members — 11/14)
In 2012, the mammoth concept-laden 66 minute Progressive Metal/Hard Rock Prog masterpiece, "Clockwork Angels" LP came out having 12 parts/song. It went on to become a novel and comic book series, and a spoken-word audiobook.  Quite some feat, along with the "live" in-concert 2013 release of "Clockwork Angels Tour" DVD/CD replete with a string section, unveiled to all and sundry. The first single in 2010 had two songs on it and announced, loudly, via "Caravan" and "BU2B (Brought Up To Believe)" that RUSH were going to be plunging into a mid-life full-on Heavy Metal phase. A return to the RUSH that the devoted fanbase knew and loved.
RUSH are right behind the BEATLES and THE ROLLING STONES, and are seen historically as the logical successors to LED ZEPPELIN for Art Rock and Beyond.
Alex Lifeson is known for the best, most expensive gear, the best guitars; simply, the best of everything. His pedalboard looks likes a small spaceship's control panel. It is matched only by what singer/bassist/ keyboardist Geddy Lee has on stage left. Neil Peart fills thing out with enough drums to keep 5 drummer deleriously busy, right smack in the middle. (It doesn't hurt that he is arguably the greatest living drummer to ever shake a stick and ROCK.
Most of all, Alex Lifeson can act out on his guitar anything he wants. He is the king of suspended chords, complex mind-bending fleet-fingered solos, and soundscapes of which one was actually used for the TV series sci-fi space drama "Andromeda".
RUSH fans are fiercely loyal. RUSH, themselves, are fiercely independent of trends and will incorporate reggae or rap or ska right smack in the middle of all the heaviosity.
Yet Lifeson — known affectionately to all the devout legions of fans as "Lerxst" — can be counted on, in- concert to turn up the volume and the distortion with an extra dose of space echo to slay any studio versions of songs the band makes.
Album: "Hemispheres" — the 1978, 6th RUSH studio album
Song: "Xanadu" – from the 1977 "A Farewell To Kings" 5th RUSH studio album.
– Rich Castle