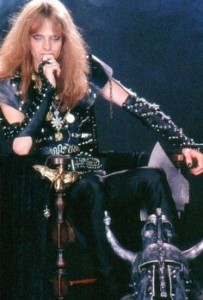 TRIPTYKON (has fronted CELTIC FROST/HELLHAMMER/CORONER) – The Swiss master changed Heavy Metal forever in 1983/84 when the primal, honest superdoom-supercharged notes rang out on the "Apocalyptic Raids" record. It was followed by CELIC FROST's amazing journey on "Morbid Tales". Shortly after, Thrashmeisters CORONER's "Death Cult" featured Warrior on vocals. It upped his profile. He helped me make the de- cision to never play wimpy music. A true artiste, Warrior puts all his anger, hope, and emotions into his music. He plays straight from the heart. TRIPTYKON is currently tearin' up stages around the world. No guitarist can match Warrior's quest. As Tom has sung — "You carry the will". His will is strong. TRIPTYKON are a complete Metal cluster- f*ck. Album: "Monotheist" – CELTIC FROST Song: "Dethroned Emperor" from the 1985 EP "Emperor's Return"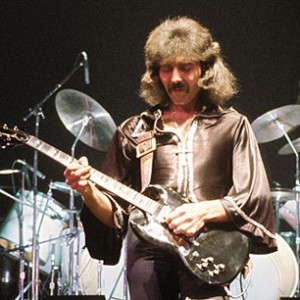 In 1970 Black Sabbath released the Heavy Metal version of a horror movie. Satanism, Fear, Warnings. Lead singer Ozzy Osbourne was singing the words of bass player Terrence (Geezer) Butler who wrote lyrics. They weren't in league with the devil but for those listening with their prejudices rather than their ears, there was a whole big stink to make. For Rock fans there was something else: Pure power, volume, distortion with ferocious animal in- tensity was the primal driving force behind numbers like "Black Sabbath", "Warning", and "Fairies Wear Boots". Everything rocked and grooved. The man on guitar was a dark, mysterious character named Tony Iommi. The color black, like Johnny Cash in mainstream music circles, fit him to a tee. Mr. Tony Iommi would say little and play minimally thanks to his fretting hand behind mangled with finger injuries suffered in his miserable days as a lad in the pollution-filled factories.
This was the birth of the Doom Metal sub-genre. Yes it was. But it was more. IRON BUTTERFLY and SIR LORD BALTIMORE, to name two, could heavy it up with the music, but ultimately it was BLACK SABBATH who stamped their name on the invention of Heavy Metal as a dead serious musical category. The whole band was from the U.K.'s factory towns, like JUDAS PRIEST who was up-and-coming but without a record deal till 1974, transcending the flower power and love and beads thing. They did the exact opposite. They represented the night, the moon, the perils of life. The harshness of reality was inherent in the very riffs that riffmeister Tony Iommi would birth. Like magic, it is a knack for coming up with just the right chord progressions that make Frank Anthony Iommi the unbeatable proposition that he still is. With Black Sabbath making 8 albums with Ozzy Osbourne and finally — after decades flew by — seeing to re-unite, making their latest sledgehammer doomladen album, "13", it is gratifying to state unequivocally that the band BLACK SABBATH is alive and well in fall 2014.
Tony Iommi is BLACK SABBATH, as he would release album after album with whatever line-up he could assemble till 1995 when the "Forbidden" LP fell flat on it's face. Iommi, though, even would release an album called IOMMI in the year 2000. And two new songs would feature the ever-present and uproarious Ozzy on vocals.
"Iron Man", "War Pigs", "Symptom Of The Universe", "Paranoid", and "Spiral Architect" are songs by the mighty Sabbath that were heavy as f*ck and without equal during the antiquated 1970s decade. No person in existence could play as heavy as Tony Iommi. The power and scything exactitude of his instrument would lead the band and blow away the competition and listener's minds. (Many fans found that SABBATH music could stone them and make them high without drugs and alcohol.)
It was BLACK SABBATH that made bands like WITCHFINDER GENERAL and IRON MAIDEN and just about every band playing Heavy Metal by 1980 try to out-heavy Tony Iommi and Black Sabbath. It turns out that you can't get real heavy without things dissolving into some sort of noisefest. The music must cut through. Question: Is OBITUARY, CANNIBAL CORPSE, POPPY SEED GRINDER or CANNIBIS CORPSE heavier than the SABS? They are Death Metal right? Isn't that the most heaviest music? Or would that be Black Metal bands like IMMORTAL or MARDUK? Answer: Not really. And it doesn't matter. After too much fuzz, distortion and screaming — things deteriorate and become noise.
Tony Iommi is a man-in-black. He has never been the type to run around on stage. He stands and wields his Gibson guitars with power to nth degree.
e is like, one Black Sabbath album was called, simply — "The Eternal Idol" (LP released Nov. 1987).
Words can't describe how Tony Iommi manages to cut right to the marrow of the bone with earth-shattering power. When he does play quiet stuff he sounds like a minstrel straight out of the Dark Ages!
Tony Iommi should be #1. Yet to not crown Hendrix as King of All Heavy Metal Guitarists Who Ever Lived, would be manipulative and devisive.
Album: "Sabotage" 1975 LP
Song: "Killing Yourself To Live"
– Rich Castle