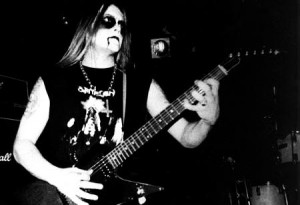 Fenriz may hog the spotlight within Norway's supremely talented duo, as the man responsible for the "battery" — but let us not forget Nocturno Culto. His GIFT OF GODS mini-LP came a-clanging to spotlight his immense talent. Unsung guitar heros like Piggy of VOI VOD (RIP) deserve their due. I am giving props to this enduring Black Metal guitar hero. MERCYFUL FATE/ KING DIAMOND and (Norway's also) IMMORTAL, and MARDUK and ABIGOR have proved that this dramatic darkened Heavy Metal sub- genre is bursting with erstwhile guitarists. KISS painted their faces and DARK THRONE went through this phase, too. 25 years of BLACK METAL the way it was meant to be played. Their latest D.T. studio album is actually a died-in-the-wool Heavy Metal album. I would seek it out if you don't already have it. These guys can play. They are avid fans of the Heavy Metal genre and col- lectors. "The Underground Resistance" was released on February 25th, 2013 by DARK THRONE It is a triumphant Metal masterpiece.
DARK THRONE tend to be content to churn out studio platters that make thy head bang and thy heart content.
QUORTHON BATHORY may be gone but the Q-throne seat that had been vacated is being kept warm: By Culto! Dark Throne may not be associated with Vikings but they sure do have a con- quering attitude. Trends have come and gone and each and every new DARK THRONE album is an exciting new chapter in their history. Culto does the tremolo picking that Euronymous of The True Mayhem and SATYRICON and other Black Metal musicians have stamped their names on. Yet Culto, perhaps like Iommi is big on riffs that groove and move ya. Most of all they put a big Metal smile on your face!
Album: "Transylvanian Hunger"
Song: "In The Shadow Of The Horns"
– Rich Castle