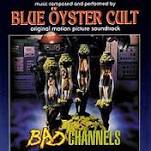 Blue Öyster Cult — Original Motion Picture Soundtrack – 1992
Did Long Island, New York's Blue Öyster Cult ever sound like Canada's Bachman-Turner Overdrive/(B.T.O. — circa 1973)? Yes. And did you ever think, generally, that the sound of a Rock singer reaching down lower for the gravelly notes have not that much difference via geographical proximity between these two territories, as it is. After all, the two points on the map are not that far (and not that very much different diction-wise) from each other.
First of all, let's backtrack: In the Grade Z, SciFi-Horror take-off motion picture — "Bad Channels" — The airwaves are hijacked by an alien presence. "In Space No One Is Safe From Rock 'N' Roll", is the silly phrase accented and intoned, by the mock-serious narrator. "Bad Channels" is a ridiculous movie with a great Prog 'n' Roll band at the helm of the soundtrack. Visually, and don't think being a fan of the 'Cult is gonna help ya, as it's turns out to be a recipe for disaster. Yet, audio-wise, it's not. You don't have to watch it, to get some primo B.O.C.
"Bad Channels Overture" has that punchy "Shooting Shark" rhythm section. That's a good thing, right off the bat. An atypical B.Ö.C. is peeled off, as the 2 minutes come to a close, with nothing ventured — nothing gained.
The rest is either pure video nonsense as it's rambunctiously clueless. Or wonderfully musically obscure — especially if you are the kinda Cultist that has heard all the band's stuff a lot.
– Rich Castle