The Black – 'Gorgoni' LP, Black Widow Records
Here's a an album to pick up on double LP vinyl, as a collector's note.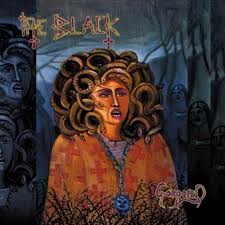 The Black have managed to weave this terrifying tale with complexities only derived from being a tight, cohesive unit which they are.
Dark and off the beaten track; There is still catchiness to be had on 'Gorgoni'.
The proceedings are conducted with lyrics completely in Latin; as begets all The Black albums.
Many of you are thinking of Sweden's The Black, and that Black Metal act is not the band that got to the band name first. It is The Black; Italy's finest Doom purveyors.
'Gorgoni' is the seventh album from The Black, from Italy, as the band continue to trace an indelible path across the horizon.
Widespread appeal has been truncated as the lyrics are in Latin. So this album is purposely tailored and being pitched to only the most dedicated and adventurous Doom Metal fans.
Fans of Pagan Altar, Witchfinder General, Reverend Bizaare and Trouble may enjoy this the most.
Though, since the band The Black from Italy are no newcomers and have been dooming it down since 1988, they have their own built in fanbase.
'Gorgoni' is a tour-de-force of epic proportions and is centered around  the Gorgon who is a hideous female in Greek mythology.
After the passing away of one of music's top opera vocalists, one Luciano Pavarotti comes this album as part of a hefty package from the ebullient Black Widow Records company from the land of great Opera and serious Heavy Metal slingers, much to my delight and surprise.
All the different parts of 'Gorgoni' connect in such a way that only a band in existence for a very long time could possibly hope to pull it off.
And The Black do just that.
The Black are blackened and beautiful.
– Rich Castle
Death Scream – Heavy Metal Reviews – Heavy Metal Interviews – Heavy Metal News