Abysmal Dawn – 'Leveling The Plane Of Existence' 2011 LP, Relapse Records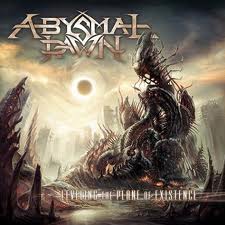 I love the magic of Death Metal. The band Abysmal Dawn have it and prove it on their blitzkreiging new album entitled 'Leveling The Plane Of Existence'.
This trio have well-honed their craft to sound quite original though surprisingly traditional and a bit different than the screamo, alternative, grunge or hardcore punk influenced sound of the newer Death bands.
When I say newer I am talking about bands that have come into existence in this brave new century of ours.
Minor key mayhem erupts during my favorite song on this album,'Rapture Renowned'.
It really helps that the guitarist smokes in the lead guitar department with note choices that may remind you, as it did myself, of Ritchie Blackmore of Deep Purple/Rainbow fame.
Don't get me wrong though as there is almost nothing on 'Leveling The Plane Of Existence' that can be construed as heavy metal or hard rock.
The band have obviously listened to what can be improved in Blackened Death metal as they have the skills and the killer instinct that elude their rivals.
Abysmal Dawn seem to operate in the same headspace as other Black Death Metal bucklers like Angelcorpse and Order From Chaos, in the past, and Ashes Of Icons and Havok presently.
These Los Angeles, Californians can be found in Wikipedia on the internet and that is a good thing for exposure.
'Leveling The Plane Of Existence' is a Death Metal album title that could be straight out of 1991 when it was cool to rhyme your band's name with Suffocation, Immolation, Incantation — what I mean is that Abysmal Dawn have the right sense of cadence as their band name is the traditional four syllables long.
This may seem to be a strange thing to point out, I know, but you are reading Death Scream where in depth analyses are never out of the question.
I feel prompted to tell you these kinds of inner workings in the scheme of things when the band in question is as good as Abysmal Dawn.
'From Ashes', 2006, and 'Programmed To Consume' from 2008 are this band's previous two studio albums.
The trio of Charles Elliott, Scott Fuller and Mike Cosio comprise Abysmal Dawn's line-up.
Matching step for step the likes of competitors Ulcerate and Fetal Decay as examples of Death Metal brutality that Abysmal Dawn can still compete with with their supreme brutality as the ace in their stack — being Black Death Metal doesn't compromise the heaviness.
I really like the way Abysmal Dawn carries themselves both in their web presence and their advanced musicality.
My second best fave track on 'Leveling' is the killer closing number, 'Sleeper Awakens'.
'Sleeper Awakens' is the longest song on offer and clocks in at just over 6 1/2 minutes,  and shows another dimension to Abysmal Dawn that I hope to glimpse more of on their next studio offering.
Tracks one and two, of ten on offer, 'Age Of Ruin' and 'Pixilated Ignorance' are poignant hateful stabs of controlled vengeance and make up the one-two punch needed to slay the listeners.
Track eight, 'Manufactured Humanity' is in the thick of the fray and really batters the listener. You could almost be forgiven for smiling at the delightful power shock that Abysmal Dawn gives you.
Abysmal Dawn on this third LP of theirs have broken the post sophomore jinx that has plagued many a Death Metal band since the Metal sub-genre's origins in the Mid 1980s.
– Rich Castle
Death Scream – Heavy Metal Reviews – Heavy Metal Interviews – Heavy Metal News