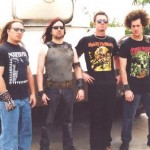 'The best are back department' of Death Scream presents the band that swallowed the thesaurus and spat it out into a blast furnace: Hellwitch.
Take a look at the photo of Hellwitch.
A picture is worth a thousand words, they say.
Hellwitch is always worth the price of admission. And their latest LP, "Omnipotent Convocation" should be on your shopping list if you call yourself a death metal fan.
In the photograph, the band look timeless and strong and lean. Dressed to kill the band sports t-shirts of, the bands, Terrorizer and Iron Maiden. Classic bands with classic albums, just like Hellwitch who are still knocking 'em dead.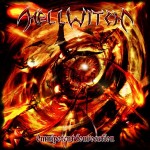 Morgoth fans come aboard. Order From Chaos fans come aboard. Brutality fans come aboard. If you have heard Brutality from Florida, U.S. where Hellwitch hails from also, and own a CD by them, you are the kind of Death Metal maniac that will go nuts for this one.
We have a classic death metal album for you.
Hellwitch are most known for their tongue-twisting album/song titles. Their first album, released way back in 1990 was "Syzygial Miscreancy" on the hapless Wild Rags Records label.
What a misfortune that Hellwitch had to be railroaded and ripped off by Ricardo Campos who ran the label and went to prison for tax evasion, so the story goes, allegedly.
Anyway, that debut Hellwitch disc sported an album cover that as a friend of mine from Sweden was known to say: "is to die for". What I mean is I would like to see some of you out there get a tattoo of it. How 'bout it?
Hellwitch don't sound exactly the same anymore but they don't sound that different either.
Why mess with perfection?
Hellwitch could have easily enjoyed the success that Voivod have had. For shades of Piggy from Voivod we need only check out "Opiatic Luminance" which boasts expensive sound effects that spout from guitarist Pat Ranieri's rig. He sounds razor sharp (to coin a heavy metal song title used by yours truly in his Cold Sweat, Bronx, days). Don't worry, as Pat Ranieri doesn't sound like the band Boston or nothing. On the contrary, Pat hasn't lost one single ounce of Death Metal specificity.
Listen back to back to these two albums and you will notice that "Viral Exogence", from the Debut LP, has it's evolutionary next step in "Opiatic".
All those who know what a "Syzygial Miscreancy" is, please raise your hand. I just asked a family member and he answered by saying: "Is it a fat girl?" And that is frighteningly close to the truth.
I want everyone to acknowledge this fact: Hellwitch's claim to fame is embedded in the song/album titles. It is sheer brilliance to be able to combine the English language's extremities with the sheer musical extremity that is death metal.
Witness the "Syzygial Miscreancy" LP's track-listing:
Track 01- "The Ascent", Track 02- "Nosferatu", Track 03- "Viral Exogence", Track 04-"Sentient Transmography", Track 05-"Mordirivial Dissemination", Track 06- "Pyrophoric Seizure", Track 07- "Purveyor Of Fear".
The follow-up 1992 EP, "Terrasymmetry", was lost in the grunge-laden wake of Nirvana. The possibility of Hellwitch getting signed to a decent record company eluded Hellwitch, somehow. The Debut LP had sold well enough but without the band seeing a monetary return to keep 'em revved up.
It wouldn't be until 2005 that Hellwitch would return again. This time with the "Epitome Of Disgrace" EP, featuring more wordy monstrosities like the lusciously titled "Mythologicales (Enlightened Paganus)": Track 03, with the rest being- "Opiatic Luminance"- Track 01, "Final Approach"- Track 02, and the title-track "Epitome Of Disgrace"as Track 04.
All of the songs from the EP also appear on the 2009 true-to-form return,"Omnipotent Convocation" LP. And it may have taken nineteen years to follow up "Syzygial" with another long-player but so be it.
Here it is: Death metal history has been made again.
"Omnipotent Convocation" is technical Death/Thrash Metal, of the highest order, churned out delightfully proud and potent, erstwhile and efficient. Hellwitch are as uncompromising as ever. They have struck back hard and fast. Bands from the new century like Suicide Scream have a lot to learn as Hellwitch are the actual creators of Death Metal in the United States.
Xtreem Records released an album from Revenant in 2005. Revenant are nowhere as spectacular as their Florida rivals, Hellwitch, but have paved the way for the signing of the reigning champions of American Death Metal to the label.
Demilich's Antti Boman does a guest vocal performance on this latest Hellwitch record.
Demilich are the Finnish Death Metal masters. Like attracts like.
I would strongly suggest that you purchase Demilich's albums after you buy "Omnipotent Convocation" as they also show, for all the world to hear, how the Death Metal style must be done.
There is a "rough-mix" version of "Vicious Avidity",(the album version is track 07 on "Omnipotent"), that became available for streaming on Hellwitch's MySpace page.
Other song-titles on Hellwitch's newest LP are "Neolithic Journey/Mysteria", "Days Of Nemesis" and "Irreverent Salvation". There is a cover of fellow Death Metal originators and also Floridians, Death; a cover of "Infernal Death"(which originally had Kam Lee of Massacre singing on it). Hellwitch rips through the Death classic with ease. "Infernal Death" may be a simple song but in the hands of true masters it becomes simply awesome.
I am almost speechless as the final cuts fly by from "Omnipotent Convocation". "Final Approach" and "Sought To Beguile" are the last two tracks on this album. And certainly not the least.
Let's look at where the past members of Hellwitch came from.  It is a veritable who's who of prime U.S. death metal. Check out these names: Malevolent Creation (with the beefed up production and precision playing on "O.C.", Hellwitch have a lot in common with the energy found on Malevolent's first LP- "The Ten Commandments" from 1990), Vacant Grave, Obituary, Equinox, Serpent Son, Resurrection (from Florida, U.S.A.) and Unholy Ghost
"Omnipotent Convocation" has been recorded at Morrisound for that 'Death Metal Made In Florida' trademark sound. Twenty-five years from the band's 1984 inception, Hellwitch's current line-up is as follows: J.P. Brown- Guitar, mainstay Patrick Ranieri – Guitar and Vocals, and Craig Shattuck- Bass and backing vocals.
Hellwitch with their long, long awaited second full-length album have exceeded expectations and decimated the competition with "Omnipotent Convocation".
– Rich Castle
Death Scream – Heavy Metal Reviews – Heavy Metal Interviews – Heavy Metal News