Manowar- "Thunder In The Sky" 2009 EP (Prelude to the "Hammer Of The Gods" full-length album)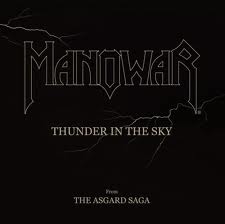 Manowar's "Hammer Of The Gods" LP is going to be a smash when it comes out. The band will be using a new drummer. It is 2011, as I write, as we wait for a sign from these living legends.
The men that make up this mighty band from Auburn, New York have aged well. The EP of a few years back, "Thunder In The Sky", was pure metallic bliss. Let's take a closer look at that return to form EP. Here is the track listing:
"Thunder In The Sky" EP:
Disc one
1."Thunder In The Sky"- 4:24
2."Let The Gods Decide"- 3:37
3."Father"-3:52
4."Die With Honor"- 4:19
5."The Crown and the Ring"(Metal Version)- 4:51
6. "God or Man"- 4:52
Disc two:
1. "Father"- (Bulgarian Version)- 4:13/   TATKO
2. "Father"- (Croatian Version)- 4:13/   OTAC
3. "Father"- (Finnish Version)- 4:13/   ISA
4. "Father"- (French Version)- 4:13/   MON PERE
5. "Father"- (German Version)- 4:13/   VATER
6. "Father"- (Greek Version)- 4:13/   NATEPA
7. "Father"- (Hungarian Version)- 4:13/    APA
8. "Father"- (Italian Version)- 4:13/   PADRE
9. "Father"- (Japanese Version)- 4:13/   X
10. "Father"- (Norwegian)- 4:13/   FAR
11. "Father"- (Polish)- 4:13/   OJCIEC
12. "Father"- (Portuguese)- 4:13/   PAI
13. "Father"- (Romanian)- 4:13/  TATA
14. "Father"- (Spanish)- 4:13/   PADRE
15. "Father"- (Turkish)- 4:13/   BABA
"Thunder In The Sky", the song, thrashes galliantly enough along. Galloping proudly to it's almost four and a half minute finish line; all metal god soloing and guitar histrionics. I am reminded of magic Manowar concert finales where the guitar feeds back indefinitely as the band stand like bronze statues and the clenched fists of everyone in attendance are raised in tribute to the spectacle of heavy metal.
A nice touch is how the song ends with the word 'thunder'. It is a bit different way of ending a tune.
This "Thunder" EP overall is quite laid back in comparison to past OTT stuff from the Manowar catalog like "Gloves Of Metal", "Black Wind Fire And Steel", "Blood Of My Enemies", and "Hail and Kill".
"Let The Gods Decide" is certainly my personal fave. The song is part of 'The Asgard Saga'. and has the attitude and vocal styling of "Warriors Of The World", the song from the album of the same name, released in 2002, by Manowar.
Hearkening back to "The Triumph Of Steel" album where the multiple part "Achilles, Agony and Ecstasy" was featured. "Achilles" has turned out to be the most ambitious song ever recorded by this New York Foursome and also the longest song.
Part of the "Achilles…" epic song was "Hector Storms The Wall" which came in right after a "Prelude". I suggest going back to take a listen to that monumental track and especially that one part for an understanding of what the Metal Kings are striving towards as we await the "Hammer Of The Gods" full-length album; it sure sounds like 1992 era Manowar, to me.
Seventeen years hence and "Thunder In The Sky" picks up, amazingly, right at that point in metal time.
The 2008 rendering of "The Crown and the Ring" is Wagner-esque Heavy Metal Opera. It is all baritone singing and chest beatingly proud. This was a wise place in Manowar history to revisit. In these modern times liking Opera is, how else can it be put except to say that it is, cool to like.
Odin and Loki may have been the focus on 2007's "Gods Of War"; the last Manowar album, but it has already been eclipsed by the sheer power of this here short EP, "Thunder In The Sky". Other bands can do the Viking thing/theme better, (Enslaved is the prime example).
Manowar are simply at their best when they are stripped down to leather, metal, spikes and chains; let's all face this fact and move along. Manowar is the loudest band in the world and that is what counts.
For fans of "Herz Aus Stahl" there is "Father". Fifteen versions is typical Manowar overkill territory as we get everything from the Bulgarian version of "Father" to the Turkish version of "Father".
Maybe it was inevitable that Manowar would one day try to emulate the most Viking of them all; Quorthon Bathory (R.I.P. bro). And they have done so with the aforementioned "Father" which is a Viking era Bathory-like number which has lots of acoustic guitar and percussion and strings; A comparison can most easily be drawn also to Judas Priest's "Angel", from J.P.'s comeback LP "Angel Of Retribution" from 2005.
Those who "Die For Metal" might just cry for "Father" with tears of joy and thankfulness, and some of us are emotionally inclined to become sentimental over this one.
Manowar are middle aged men now. Does anyone remember bassist Joey Demaio asking publicly for a wife so he could settle down?
Maybe you won't cry tears of joy over this EP by you may be glad, as I am, that the massive choruses and general overblown-ness that marred "Gods Of War" are gone.
And just in time for "Hammer Of The Gods" to roll around.
Manowar sound most powerful on albums like "Into Glory Ride" and "Sign Of The Hammer" and it is also when they keep it simple and very metal.
Hammer Of The Gods LP by Manowar: Bring it on!
– Rich Castle
Death Scream – Heavy Metal Reviews – Heavy Metal Interviews – Heavy Metal News