Suicide Silence – "No Time To Bleed" 2009 LP & "The Cleansing" 2007 LP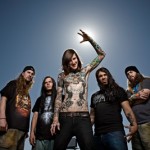 Suicide Silence, out of sunny California: Getting 4 out of 5 stars for the online death metal masterpiece "No Time To Bleed- The Body Bag Edition" – Limited Edition version with a Bonus DVD on Century Media- 2010.
Check this out, pronto!
Suicide Silence are working hard to build their buzz!
The tattooed enterprise known as Suicide Silence are the best and latest thing (2005 was S.S.'s inception) to come out of the Death Metal Underground. And they are certainly the greatest thing to come out of the Death Metal Underground, also.
Let's concern ourselves with getting acquainted with this band. If you already are, give yourself a blast beat on the back!
I really do believe that Suicide Silence are the unearthed gem in the Death Scream boulder known as Earth.
Easily holding their own amongst heavyweights like Cannibal Corpse and Amon Amarth and the like; I am presenting you a review of some album tracks of theirs to whet your whistle for the major-league produced platter that is up and coming later this here year, 2011. Suicide Silence sound, for the all the world to hear, like 100,000 bees buzzing at once, in perfect down-tuned disharmony.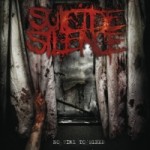 Let's check out "Wake Up" from the "No Time To Bleed" LP: Double-bass mayhem and Carcass-style growly/screamy vocals. The band play a bit like Cartilage, for an older and more obscure comparison (but one that I think is appropriate. Any Death Metalhead worth his salt has got to know 'em all, right?)
"Lifted"- An ominous guitar riff transfigures itself against a battering ram assault; a humungously heavy tune in the vein of old Death, vintage Cannibal Corpse, Morbid Angel circa "Altars Of Madness"LP. Immensely enjoyable. I thought that Sodom had the market cornered where this aspect was concerned. Suicide Silence make a blazing helluva racket that makes will make you smile the whole song through.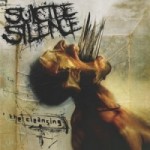 "No Pity For A Coward"- from "The Cleansing" LP- And it is a train wreck that take takes no prisoners in ti's down-trodden madness. Think Pungent Stench meets Vader. Suicide Silence do not share much in common with other Californian Death Metal bands. I always thought that even the heaviest of 'em all, like Dark Angel, had a Hardcore element.
Suicide Silence have more of a European sound, overall.
"The Price Of Beauty"- What is the price of beauty? Answer: That it one day decays and turns to nothing. This song is so successful at being repugnant that it made me think of a
disgusting answer.
"Unanswered"- is blast-beating insanity. As much fun as a bag full of maggots, or something.
Suicide Silence are masters of insane Death Metal. Like I once heralded Sepultura for their musical brilliance; I will now bestow that crown upon these guys.
Hail the new champs.
Now I can't wait to see what a great production mastermind producer Steve Evetts (Dillinger Escape Plan, Every Time I Die, Hatebreed) has in store for these guys as the new Suicide Silence long-player looms on the horizon, later this 2011 year.
The key to great Death Metal is convincing vocals with airtight, heavy musicianship.
If I didn't mention the lyrics, it was intentional. With a great Death Metal band the lyrics are an afterthought. Though I'm sure I will get to reading 'em.
– Rich Castle
Death Scream – Heavy Metal Reviews – Heavy Metal Interviews – Heavy Metal News