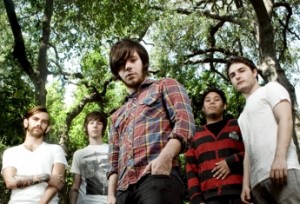 Here is an open invitation to enjoy the music being made by today's youth: Dance Gavin Dance's fun rockin' tracks that are found on their "Happiness" 2009 album and their "The Death Star" 2008 album.
"Tree Village"- Think Train's "Calling All Angels" mixed with Foo Fighters- "Times Like These- era mixed in an upside-down blender with a big scoopful of Yes's 70's heyday. Give it all a hard edge on the production end and serve it chilled.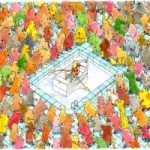 Dance Gavin Dance are fun. The kind of fun you have after you have put a smoothie in the freezer for an hour and it tastes out of this world.
I think what makes me like this combo so much is the guitar sound. There is a vintageness to it, yet an innocence that runs contrary to it's youthfulness.
And also D.G.D.'s quiet overuse of interestingly-patterned drums that remind me of the street-cred-tastic Warrior Soul. (Does anybody still remember these 90's 'wasted youth' icons?). Though they are not that high in the mix which is a good thing.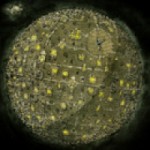 One of the terms that the band uses to describe itself; Screamo, is thankfully present only in the sound of the loudest vocals present in their songs. And this Screamo-style really does work for 'em.
Nice going lads.
This quintet is very young so there is a lot of promise already taking place in the music.
"I'm Down With Brown Town"- off beat titles abound with Dance Gavin Dance. Think Slayer's Tom Araya on a psychedelic mescaline trip, dragged in front of a sign that reads- It's 2-0-1-1, man. The music beats with the uncertainty of the times we live in.
"Nasa"- D.G.D. are having fun with their music and sound very relaxed with their quirky style.
"Me and Zoloft Get Along Just Fine"- Another head shaker of a song title. Wow. I'm speechless. Let me tell you a little something, here: When I was a teenager no one went to a psychiatrist unless they had really messed up on a huge level (and their parents had the money to pay for it, also). No one was prescribed Seroquel / Abilify / Zoloft / Thorazine / Mirtazepine. Okay. So maybe Valium but even then you had to be real weird.
Now, it's different. Kids become adults without having the carefree time to be teenagers. Kids in this new century's first decade have grown up way too fast.
Now go ahead:
Open up the window and scream out at the top of your lungs: "Me and Zoloft Get Along Just Fine"! Go ahead. Do it.
"Uneasy Hearts Weigh The Most- (whole song)" – A tune taken from D.G.D.'s "The Death Star" collection.
Songs like these should be a wake up call for those who play lead guitar and think they know it all. Six string slingers need to be reminded how much fun it all used to be just to play an instrument as an adolescent.
The pure joy of being young hasn't been totally zapped away by anti-depressants and stone-faced adults. Is that Ozzy Osbourne I detect in the vocal melody of this song. Yes. As hard as it may seem to get a grip on; Ozzy Osbourne was once a young drop out playing in his radical band Black Sabbath.
But very unlike that primitive sounding ruckus called the first "Black Sabbath" album; Dance Gavin Dance are fun. Simple joy.
Simply put: D.G.D.- You guys rock.
– Rich Castle
Death Scream – Heavy Metal Reviews – Heavy Metal Interviews – Heavy Metal News