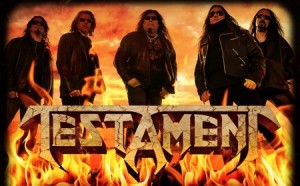 San Francisco Bay Area metal veterans TESTAMENT are currently writing material for the follow-up to 2008's "The Formation Of Damnation" for a tentative late 2011/early 2012 release. The new CD will be recorded this summer with British producer Andy Sneap, who has previously worked with MEGADETH, ARCH ENEMY, NEVERMORE, EXODUS and MACHINE HEAD, among others.
In a brand new posting on his Twitter profile, TESTAMENT guitarist Alex Skolnick writes, "Another tune done! My riffs from last week [plus] some of [fellow TESTAMENT guitarist Eric Peterson's plus] new ones we wrote today. Planning one more, then we've got more than we need."
Regarding the musical direction of the new TESTAMENT material, the band's vocalist, Chuck Billy, stated in a 2010 interview, "The new album will most likely be a culmination of 'The Gathering' [1999] and 'The Formation of Damnation', but we're definitely not going to forget who we are or our roots. I think we've found a comfortable spot in our writing style."
"The Formation Of Damnation" was reissued on February 23, 2010 in a deluxe tour edition. The two-disc edition includes the band's comeback album plus bonus footage of classic tracks and more.
Prosthetic Records recently re-released TESTAMENT's out-of-print 1995 hometown-show album "Live At The Fillmore" on CD. The LP was reissued digitally last spring.
The "Live At The Fillmore" re-release includes expanded artwork and new layout by Carson Slovak and new liner notes by Robert Deutsch.
Prosthetic previously reissued four TESTAMENT efforts: the acclaimed late-'90s studio albums "Demonic" and "The Gathering"; the re-recordings compilation "First Strike Still Deadly"; and the vintage live album "Live At Eindhoven '87".
Via Blabbermouth
Death Scream – Heavy Metal Reviews – Heavy Metal Interviews – Heavy Metal News