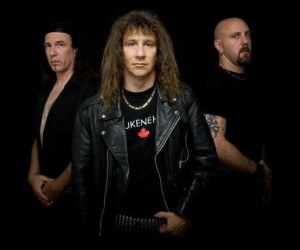 Andrew Matte of The Regina Leader-Post recently conducted an interview with guitarist/vocalist Steve "Lips" Kudlow of Canadian heavy metal legends ANVIL. A couple of excerpts from the chat follow below.
On the success of "Anvil! The Story of Anvil", a documentary produced by a former roadie that gave the band more notoriety and fame that it was unable to generate on its own:
"The momentum of the movie doesn't seem to dissipating. More and more people are seeing it. It went from the theatres and it was shown on VH1 in the States. It's still circulating in the pay TV circuit and I think it might reach another plateau when it reaches regular TV.
"We're still considered an attraction and people want to come and see us, particularly in places we've never been."
On ANVIL's new album, "Juggernaut Of Justice":
"When you create music for an album, it reflects where you are in your life. And this couldn't be a higher point for us. It's like whatever happened in the past never even happened. This has been a total rebirth. This is the start on a whole new level.
"There are labels, management, producers, all the things that you need to be successful has finally surrounded the band. When you have that kind energy and support, then you stand up and be counted. When we wrote music in the past, we were always like, 'Are we going to be able to put this out? Are people going to like this? Who's going to produce it?' In this case, those questions were answered. So we just set out to make the best possible music because we knew we'd get heard. We knew we'd get seen."
Via Blabbermouth
Death Scream – Heavy Metal Reviews – Heavy Metal Interviews – Heavy Metal News