California rockers TESLA will release "Twisted Wires And The Acoustic Sessions" on July 12. The album will feature six songs that were recorded back in 2005 at bassist Brian Wheat's J Street Recorders studio — which also serve as the last recordings with original member Tommy Skeoch — and six newly recorded tracks, including acoustic remakes of songs from TESLA's entire catalog and two brand new songs, "Second Street" and "Better Off Without You".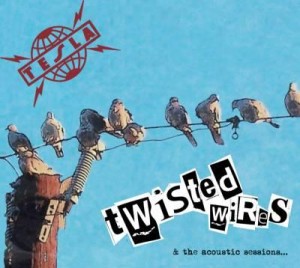 TESLA released a live album, "Alive In Europe!", in Europe on April 23, 2010 via Frontiers Records.
TESLA's latest studio album, "Forever More", sold more than 16,000 copies in the United States in its first week of release to debut at position No. 33 on The Billboard 200 chart. The CD was released on October 7, 2008 on Tesla Electric Company Recordings. The European version of the album, which was made available on November 7 via Frontiers Records, contains two bonus tracks not found on the American version.
For "Forever More", TESLA reunited with producer Terry Thomas, who was behind the boards for the band's 1994 gold-certified "Bust A Nut" album, and engineered by Michael Rosen who worked with TESLA on "Into The Now".
Via Blabbermouth
Death Scream – Heavy Metal Reviews – Heavy Metal Interviews – Heavy Metal News