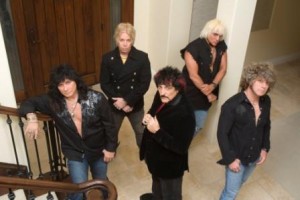 "Turn Up The Good (Times)", the new video from KING KOBRA, can be seen below. The song comes off the band's new self-titled comeback album, which came out in April via Frontiers Records.
Formed in 1984 by legendary drummer Carmine Appice (VANILLA FUDGE, ROD STEWART, OZZY OSBOURNE), Los Angeles heavy metal outfit KING KOBRA recorded two critically acclaimed albums for Capitol Records — the 1985 release "Ready To Strike" and 1986's "Thrill Of A Lifetime".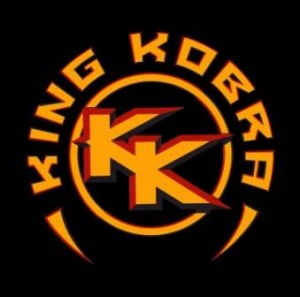 Along with Carmine, the band featured four relatively unknown musicians at the time — David Michael-Philips and Mick Sweda on guitar, Johnny Rod on bass and Mark Free on lead vocals. KING KOBRA toured the U.S., Canada, Europe and Mexico playing shows with KISS, IRON MAIDEN, QUIET RIOT, TED NUGENT, QUEENSRŸCHE and AUTOGRAPH.
The band was featured regularly on MTV and performed the theme song for the #1 1986 motion picture "Iron Eagle". After disbanding in 1988, each member continued his career in other successful major-label groups — Carmine to BLUE MURDER (Geffen), Mark Free to UNRULY CHILD (Interscope), Mick Sweda to the BULLETBOYS (Warner Bros.), Johnny Rod to W.A.S.P. (Capitol/EMI) and David Michael-Philips to LIZZY BORDEN (Metal Blade).
The year 2010 saw the band reunite the original classic '85 lineup, replacing original singer Mark Free (now Marcie Free) with veteran lead vocalist Paul Shortino (ROUGH CUTT, QUIET RIOT).
"This album captures all the great points we had in the 80's, but better," says Carmine Appice. "The music is more traditional KING KOBRA music. Great lyrics, kick-ass songs with cool hooks and really good playing. A really great hard rock/metal record with lots of energy." David Michael-Phillips adds, "It truly is an all-star album. Paul Shortino is amazing! I can honestly say he is one of the best vocalists in the business along with being one of the nicest and most generous people I have ever met."
"King Kobra" track listing:
01. Rock This House
02. Turn Up The Good (Times)
03. Live Forever
04. Tear Down The Walls
05. This Is How We Roll
06. Midnight Woman
07. We Got A Fever
08. Tope Of The World
09. You Make It Easy
10. Cryin' Turns To Rain
11. Screamin' For More
12. Fade Away
KING KOBRA 2011 is:
* Paul Shortino – vocals
* David Michael-Philips – Guitar
* Mick Sweda – Guitar
* Johnny Rod – Bass
* Carmine Appice – Drums
Via Blabbermouth
Death Scream – Heavy Metal Reviews – Heavy Metal Interviews – Heavy Metal News