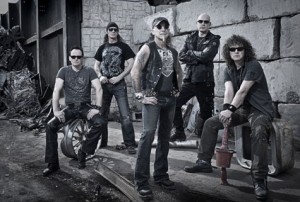 Kaaos TV conducted an interview with guitarist Wolf Hoffmann of reformed heavy metal legends ACCEPT before the band's June 11, 2011 concert at the Sauna Open Air festival in Tampere, Finland. You can now watch the chat below. Also available is ACCEPT performance footage from Sauna Open Air.
When asked about ACCEPT's current relationship with the band's former singer, Udo Dirkschneider, Hoffmann said, "There's really no connection at all; we don't really have any relationship with him. We just read stuff that he says and we don't wanna comment on any of it. We decided for ourselves we're not gonna go there and, like, make a statement [in response] to his statement, blah blah blah. We're not gonna go there. I know that certain people want that, but we don't wanna go there, so we decided we wanna wish him all the best with his own project and 'adiós, amigo.'"
In a recent interview with Sleaze Roxx, Dirkschneider was asked about his decision to not take part in ACCEPT's current reunion. "Wolf has been saying in interviews that he was not interested in a reunion, but this is not true," he replied. "They asked me [in 2009 if I wanted to return to the band]. I said to them, 'We have already done a reunion in the '90s and it did not work out.'
"My thought was this: if I do this reunion, then I have to cut down U.D.O. [Udo's long-running project], and U.D.O. has become quite successful. I said to Wolf, 'Okay, when this reunion doesn't work out, I'll have to continue under the name ACCEPT.' I wanted the rights to the name, but Wolf didn't agree to those terms and I said to them, 'I wish you good luck.'"
When asked why it would not have been possible to do both U.D.O. and ACCEPT, Udo said, "For me, I would rather not have two bands at the same time. I want to be able to concentrate on just one band. I have restarted U.D.O. twice at this point; the band has been in existence this time for 14 to 15 years now. I've been together with some of these guys in this band longer than I have been with the guys in ACCEPT. [laughs]!"
Regarding whether his decision had to do with a struggle for control of the name, money or both, Dirkschneider replied, "Well, money, of course, but money isn't the most important thing in the world to me. I wanted assurance that I could continue under the name ACCEPT if things didn't work out because I had the most to lose by putting U.D.O. aside. So when they wouldn't agree to this, I said, 'Thank you very much, Wolf!'" [laughs]"
ACCEPT is continuing to tour as a four-piece after the band's guitarist, Herman Frank suffered broken ribs and a punctured lung in a stage fall on May 6 in San Antonio. Bassist Peter Baltes stated, "Herman will rejoin us as soon as he is all healed up and good to go."
ACCEPT's latest album, "Blood Of The Nations", was released in North America on September 14, 2010 via Nuclear Blast Records. Recorded at Backstage Studio in Derbyshire, England with acclaimed British producer and SABBAT guitarist Andy Sneap (MEGADETH, EXODUS, ARCH ENEMY, MASTERPLAN), the CD marks the debut of the band's latest addition, vocalist Mark Tornillo (ex-TT QUICK).
ACCEPT 2011 is:
Wolf Hoffmann: Guitar
Peter Baltes: Bass
Herman Frank: Guitar
Mark Tornillo: Vocals
Stefan Schwarzmann: Drums
Via Blabbermouth
Death Scream – Heavy Metal Reviews – Heavy Metal Interviews – Heavy Metal News