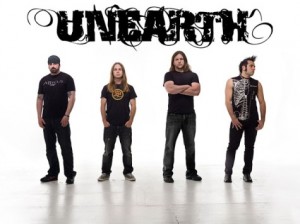 "Darkness In The Light", the new album from Massachusetts metallers UNEARTH, can be streamed in its entirety at AltPress.com. Due on July 5 via Metal Blade Records, the CD was recorded at Zing Studios in Westfield, Massachusetts with producer (and KILLSWITCH ENGAGE guitarist) Adam Dutkiewicz. The effort was mixed by Mark Lewis (THE BLACK DAHLIA MURDER, WHITECHAPEL, DEVILDRIVER, TRIVIUM) from Audiohammer Studios in Sanford, Florida.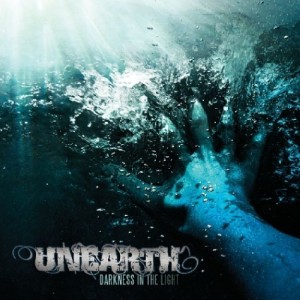 "Darkness In The Light" track listing:
01. Watch It Burn (4:06)
02. Ruination Of The Lost (3:35)
03. Shadows Of The Light (3:45)
04. Eyes Of Black (3:53)
05. Last Wish (3:06)
06. Arise The War Cry (3:55)
07. Equinox (2:58)
08. Coming Of The Dark (3:07)
09. The Fallen (3:35)
10. Overcome (3:11)
11. Disillusion (3:37)
Commented vocalist Trevor Phipps: "This album is without a doubt some of the heaviest, most dynamic and memorable tunes we've ever written. The disc is littered with the shred 'n' stomp-filled songs our fans would expect from us, as well as some added vocal hooks, guitar melodies, guitar solos and some different paths taken in style and structure. We knew we had to continue to separate ourselves from the pack and to cement our place in the heavy metal world as one of the leaders and not as one of the many followers that seem to hop on the trend wagon and give up so easily when the going gets hard. We are here to stay and collectively we couldn't be any more fired up to play these songs around the world for our fans new and old. So check it out, spread the word of underground metal and leave some feedback."
UNEARTH has tapped drummer Justin Foley (KILLSWITCH ENGAGE) for the band's upcoming slot on this summer's Rockstar Energy Drink Mayhem Festival and subsequent European headlining tour (dubbed "Hell On Earth").
Foley, who also performed on "Darkness In The Light" album, takes the place of former drummer Derek Kerswill, who parted ways with the band last year due to creative differences.
Several pre-order deals for "Darkness In The Light" are available. Packages include:
* CD: $9.99
* CD + T-Shirt: $19.99
* CD + Unearth Beer Bong: $20.99
* CD + T-Shirt + Unearth Beer Bong: $29.99
For more information, visit www.darknessinthelightalbum.com.
Via Blabbermouth
Death Scream – Heavy Metal Reviews – Heavy Metal Interviews – Heavy Metal News