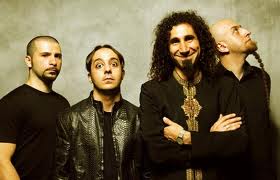 SYSTEM OF A DOWN kicked off its reunion tour with a headlining performance last night (Tuesday, May 10) in front of 14,000 fans at Rexall Place in Edmonton, Alberta, Canada. Support at the gig came from GOGOL BORDELLO.
According to the Edmonton Journal, "[SYSTEM OF A DOWN's] stage was sparse, adorned with rows of adjustable spotlights and a cloth backdrop that projected the band's logos and, during the slower songs, some mountains. At the band's feet were their trademark oriental rugs.
"This was as much a dress rehearsal as it was a kickoff, and at first, the cobwebs were obvious. The band came out with a powerful sound, instantly comfortable with their old catalogue of bangers and ballads. But they had little physical presence, seeming static and rigid — at odds with their unflinchingly intense sound."
SYSTEM OF A DOWN's setlist was as follows:
01. Prison Song
02. B.Y.O.B.
03. Know
04. Needles
05. Deer Dance
06. Attack
07. Radio/Video
08. Hypnotize
09. Question!
10. Suggestions
11. Psycho
12. Chop Suey!
13. Lonely Day
14. Soldier Side – Intro
15. Soldier Side
16. Kill Rock 'n Roll
17. Lost in Hollywood
18. Forest
19. Science
20. Holy Mountains
21. Aerials
22. Tentative
23. Cigaro
24. Suite-Pee
25. War?
26. Toxicity
27. P.L.U.C.K.
28. Sartarabad
29. Sugar
SYSTEM OF A DOWN officially announced its return on November 29, 2010, with the band confirming that it will headline or co-headline several prominent European festivals this summer.
Bassist Shavo Odadjian told The Pulse of Radio a while back that he could never envision SYSTEM OF A DOWN going away permanently. "We're brothers, man, we'll take bullets for each other," he said. "So it's like, you kind of miss each other after a while and you, one guy makes the first move, then another starts making phone calls….this is a juggernaut, man. SYSTEM OF A DOWN is my lifeline. It'll never go away. We could not make a record for 10 years — that's not gonna happen, but I'm just saying we could — and we'll come back strong."
Odadjian hinted in a 2010 interview that financial problems and creative differences led the band to take a break and prevent a permanent split.
There is no word yet on whether SYSTEM plans to record a new album.
SYSTEM OF A DOWN went on hiatus in late 2006 after touring behind its two 2005 albums, "Mezmerize" and "Hypnotize". All four members of the group expressed a desire to work on separate projects.
Singer Serj Tankian has issued two solo albums, while guitarist Daron Malakian and drummer John Dolmayan launched a short-lived band called SCARS ON BROADWAY in 2008. Odadjian worked on a project with RZA from the WU-TANG CLAN called ACHOZEN, but no music from that has surfaced.
Via Blabbermouth
Death Scream – Heavy Metal Reviews – Heavy Metal Interviews – Heavy Metal News