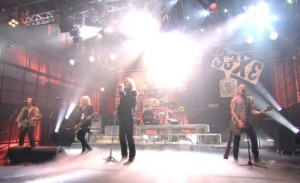 DEF LEPPARD performed on last night's (Tuesday, May 10) edition of "The Tonight Show With Jay Leno" on NBC-TV. You can now watch the full episode at NBC.com.
A couple of images of DEF LEPPARD's appearance on "The Tonight Show With Jay Leno" are available below.
Frontiers Records will release DEF LEPPARD's new live album (with bonus DVD), "Mirrorball", on the following dates:
Germany, Switzerland, Austria: June 17
June 23: France
Rest Of Europe: June 20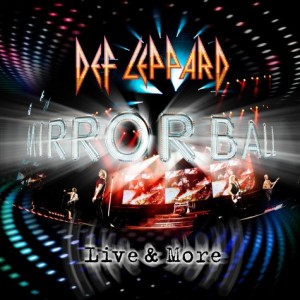 "Mirrorball" will be available on June 7 exclusively at Walmart and Sam's Club locations in the United States and Canada. The album will include a 50-minute DVD that contains live performances and intimate backstage footage of the band captured on the road. A special limited vinyl edition will also be made available. "Mirrorball" will also be available online, marking the first time the band's music will officially be made available for digital purchase. DEF LEPPARD will also be releasing their new community based website in May, which is being developed to be the ultimate DEF LEPPARD fan experience and go-to destination for all things on the band.
"Mirrorball" features a mix of live DEF LEPPARD classics (recorded throughout The Sparkle Lounge Tour), three brand new studio songs and the aforementioned bonus DVD. "Mirrorball" is DEF LEPPARD's first ever live album and features rock classics such as "Animal", "Pour Some Sugar On Me", "Photograph", "Nine Lives" and "Rock Of Ages". The album also brings together three brand new studio tracks — "Undefeated", "Kings Of The World" and "It's All About Believin'" — taking their place with ease within this classic setlist.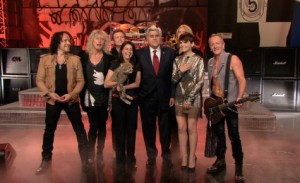 "When we decided to do (the live album), it just got said — I don't know by who — 'Why don't we chuck a couple of new songs on the end?' " frontman Joe Elliott told Billboard.com. "And that two became three, and in fairness it could've been four if we'd just had a little bit more time. But we wanted to tour this summer, so any fourth or fifth song we had brewing, we'll save them for the next record."
Elliott composed "Undefeated", which he described to Billboard.com as "a very QUEEN-type vocal thing. It even features piano and stuff." Guitarist Phil Collen's "It's All About Believin'" is "a pop-rock song," while bassist Rick Savage's "Kings Of The World" is "a big, epic, rock anthem that will sound great in arenas and stadiums all over the world — kind of 'We Will Rock You' with guitars, if you like."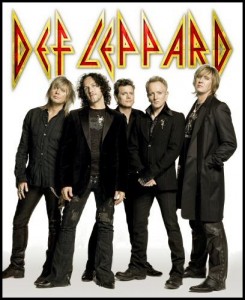 "They're all very different to each other," Elliott added. "They don't sound specifically like any previous DEF LEPPARD songs, but they sound like DEF LEPPARD songs. They have to have our identity on them, otherwise they might as well be Tom Waits or R.E.M. We have a signature sound that we're not scared of anymore."
"Mirrorball" track listing is as follows:
Disc 1
01. Rock! Rock! (Till You Drop)
02. Rocket
03. Animal
04. C'Mon C'Mon
05. Make Love Like A Man
06. Too Late For Love
07. Foolin'
08. Nine Lives
09. Love Bites
10. Rock On
Disc 2 (DVD)
01. Rock! Rock! (Till You Drop)
02. Armageddon It
03. Pour Some Sugar On Me
04. Hysteria
05. Nine Lives (music video)
06. C'Mon C'Mon (music video)
Disc 3
01. Two Steps Behind
02. Bringin' On The Heartbreak
03. Switch 625
04. Hysteria
05. Armageddon It
06. Photograph
07. Pour Some Sugar On Me
08. Rock Of Ages
09. Let's Get Rocked
10. Action
11. Bad Actress
12. Undefeated
13. Kings Of The World
14. It's All About Believin'
Also set for release this summer is LEPPARD's first coffee table book titled "Def Leppard – The Definitive Visual History", with exclusive photos by legendary rock photographer Ross Halfin. The book is released on June 1.
Photos courtesy of DefLeppard.com
Via Blabbermouth
Death Scream – Heavy Metal Reviews – Heavy Metal Interviews – Heavy Metal News