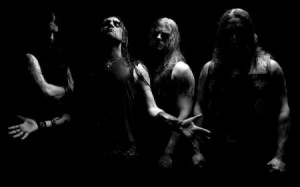 "Warschau 2: Headhunter Halfmoon", a brand new song from Swedish black metallers MARDUK, can be streamed in the YouTube clip below. The track comes off the band's new EP, "Iron Dawn", which will be released in North America on the same day as the group's appearance at the Maryland Deathfest on May 27 (May 30 in the rest of the world via Regain Records). So the first chance to get your hands on the EP will be during the festival and the band's upcoming "7 Bowls Of Wrath" tour (taking place late May/early June).
According to a press release, the songs included on "Iron Dawn" differ from the concept that is being created for the next full-length album. Therefore this EP will be made available as a special treat for all MARDUK legionaries out there.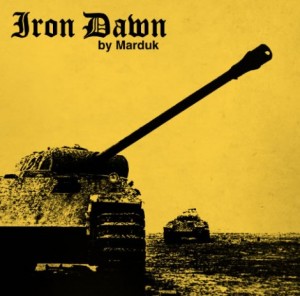 "Iron Dawn" track listing:
01. Warschau 2: Headhunter Halfmoon
02. Wacht Am Rhein: Drumbeats Of Death
03. Prochorovka: Blood And Sunflowers
The "Iron Dawn" EP will only be available for a certain time period and will be unleashed on digipak version and also on 12-inch vinyl limited to 500 copies worldwide.
MARDUK will celebrate its 20th anniversary by releasing a strictly limited-edition, "marvellous box set" in early 2011. According to the band, "This fabulous release will be a monument of the first two decades of MARDUK."
The vinyl edition of "Wormwood", the latest album from MARDUK, was released last spring. The effort is available as a regular black vinyl with a gatefold sleeve (700 copies), picture disc (333 copies) and also as a gatefold deluxe edition with a 32-page booklet with lyrics on red vinyl (500 copies). Also newly released are the remastered versions on vinyl of MARDUK's "Germania", "Nightwing" and "Panzer Division Marduk" (available on regular vinyl and picture disc).
"Wormwood", the eleventh album from MARDUK, sold around 650 copies in the United States in its first week of release. The CD landed at position No. 99 on the Top New Artist Albums (Heatseekers) chart, which lists the best-selling albums by new and developing artists, defined as those who have never appeared in the Top 100 of The Billboard 200.
"Wormwood" was released in the U.S. on October 13, 2009 via Regain Records (September 24 in Europe). The CD was recorded at Endarker Studios in Norrköping, Sweden with engineer/producer Magnus Devo Andersson.
Via Blabbermouth
Death Scream – Heavy Metal Reviews – Heavy Metal Interviews – Heavy Metal News