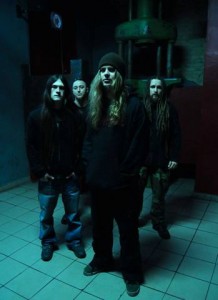 Polish technical death metal band DECAPITATED will release their fifth studio album, "Carnival Is Forever", in North America and Poland on July 12 via Nuclear Blast Records. The CD's cover art was created by Lukasz Jaszak and can be seen below.
Commented DECAPITATED guitarist Waclaw "Vogg" Kieltyka: "[The album cover is] very intriguing and quite strange for a metal album but surely staying in memory. A vital thing is that it's a photo. We did not want any computer graphics this time or anything artificial or plastic. The same regards the production of the album. We had actually been thinking about getting a painting for the cover but unfortunately we couldn't do it. Maybe next time."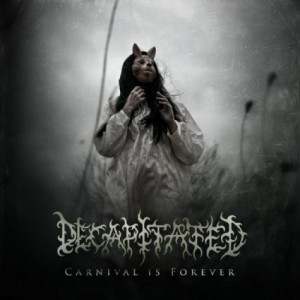 The follow-up to 2006's "Organic Hallucinosis", "Carnival Is Forever" was recorded at Radio Gdansk Studio in Poland with producer Wacek Kieltyka and engineer Malta Arkadiusz Malczewski. Drums were tracked with Daniel Bergstrand (BEHEMOTH, MESHUGGAH, DIMMU BORGIR, KEEP OF KALESSIN, DEFLESHED), who also handled mixing duties.
Regarding the album title, Vogg previously said: "Carnival: war, rape, lies, pathology, evil displayed through certain events and situations of the latest years in the world. Is Forever — I guess it doesn't need explaining. Both in the text and the title, there is bitter irony. The author of the title and all lyrics is Jarek Szubrycht (Lex Occulta, author of "No Mercy", the world's first biography of thrash metal legends SLAYER."
DECAPITATED's new album will be released through Nuclear Blast Records in all territories except the band's home country where the group will make the CD available via its own label.
DECAPITATED's lineup includes Waclaw "Vogg" Kieltyka on guitar, Kerim "Krimh" Lechner (THORNS OF IVY, TONE INTIMACY) on drums, Rafal Piotrowski (KETHA, FORGOTTEN SOULS) on lead vocals, and Filip "Heinrich" Halucha (VESENIA, ROOTWATER, UNSUN, MASACHIST) on bass.
Via Blabbermouth
Death Scream – Heavy Metal Reviews – Heavy Metal Interviews – Heavy Metal News