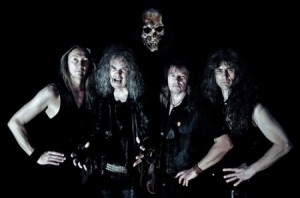 Marko Osterholz of Rockvoice HQ conducted an interview with vocalist Chris Boltendahl of German power metallers GRAVE DIGGER on March 29, 2011 at Zeche in Bochum, Germany. You can now watch the chat below. (Note: The interview is in German, with English subtitles.)
"The Clans Are Still Marching", the new DVD from GRAVE DIGGER, entered the German Media Control chart at position No. 56 (German chart rules allow music DVDs to enter album charts).
One cannot think of a better location to loudly celebrate a metal anniversary than the legendary Wacken Open Air festival. GRAVE DIGGER never thought twice than to mark their 30th anniversary with a metal extravaganza that would allow their most loyal fans to celebrate with them at the metal Mecca. This once-in-a-lifetime evening delivered the band's classic "Tunes Of War" in its entirety. Thousands of headbangers shared in the enjoyment of timeless anthems such as "Scotland United", "The Dark Of The Sun", and, of course, "Rebellion". Staying true to the evening's theme, frontman Chris Boltendahl performed in "Braveheart"-inspired garb. Yet he had more surprises up his sleeve, as he welcomed guest artists VAN CANTO, Hansi Kürsch (BLIND GUARDIAN), and metal queen Doro Pesch to join him on stage.
Released on March 4 via Napalm Records, "The Clans Are Still Marching" DVD captures the energy of this unique evening and delivers it to living rooms everywhere. The DVD also comprises backstage footage, interviews, the video of "Highland Farewell" and its respective "Making of…", as well as all the live tracks on CD.
GRAVE DIGGER's latest album, "The Clans Will Rise Again", was released in Europe on October 1, 2010 via Napalm Records. The CD was recorded between mid-May 2010 and mid-July 2010 at the Meadow Studios, which is owned by GRAVE DIGGER's new guitarist Axel Ritt, and Principal Studios, where all of GRAVE DIGGER albums since 1995's "Heart Of Darkness" have been tracked. It was produced by Chris Boltendahl and mixed by Jörg Umbreit.
Via Blabbermouth
Death Scream – Heavy Metal Reviews – Heavy Metal Interviews – Heavy Metal News