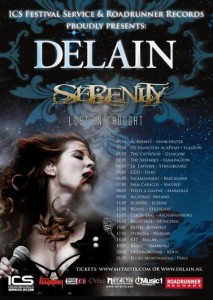 Video footage of Dutch female-fronted symphonic metallers DELAIN performing two brand new songs — with the working titles of "Get The Devil Out Of Me" and "Milk And Honey" — on April 29, 2011 at the Academy in Manchester, England can be viewed below.
DELAIN last month announced the addition of guitarist Timo Somers to the group's ranks. The band said in a statement, "Timo's been rehearsing with us for quite some time and we're very confident that we've found the best possible new DELAIN team member in him; this guy's got music in his blood."
DELAIN will release its third album later in the year via Roadrunner Records.
The band last year announced the addition of bassist Otto "The Baron" Schimmelpenninck van der Oije (DETONATION) to the group's ranks.
DELAIN's second album, "April Rain", was released in North America on June 30, 2009 via Sensory Records (with U.S. distribution through Ryko and Canadian distribution through Sonic Unyon). The North American version of the album features a bonus track — "Come Closer" — which was previously only available on the limited-edition digipack version of the LP.
"April Rain" benefitted from the return of NIGHTWISH bassist/vocalist Marco Hietala who provided male vocals on two tracks, as well as world-renowned cellist Maria Ahn.
Via Blabbermouth
Death Scream – Heavy Metal Reviews – Heavy Metal Interviews – Heavy Metal News