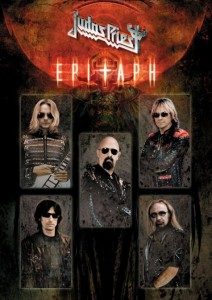 British heavy metal legends JUDAS PRIEST have been focusing on the forthcoming tour — doing press, photos, sorting out stage sets, special effects, and stage clothes etc. In addition, they have started music rehearsals this week so are now poised and getting ready to roll. According to a posting on the band's official web site, "everyone is looking forward to travelling round the world again with the PRIEST machine!"
JUDAS PRIEST's "Epitaph" world tour will kick off on June 7 in Tilburg, Holland.
The first photo of the new JUDAS PRIEST lineup — featuring the band's latest addition, 31-year-old British guitarist Richie Faulkner (LAUREN HARRIS, DIRTY DEEDS) — can be seen below.
Faulkner officially joined JUDAS PRIEST in April as the replacement for the band's founding member Kenneth "K.K." Downing.
Downing issued a statement last month regarding his departure from the legendary heavy metal group on the eve of its farewell tour. Downing said, "It is with much regret that I will not be with you this summer. Thank you all from the bottom of my heart for your concerns about my health. Please rest assured that I am OK. There has been an ongoing breakdown in (the) working relationship between myself, elements of the band, and the band's management for some time. Therefore I have decided to step down rather than to tour with negative sentiments as I feel that this would be a deception to you, our cherished fans. However, I would urge you to please support the PRIEST as I have no doubt that it will be a show not to be missed."
Singer Rob Halford told French magazine Rock Hard, "K.K. leaving was his own decision, for the reasons he made public on his web site. . . K.K. has his own life to live and we can't force him to do anything he doesn't want to do."
Regarding Faulkner's addition to JUDAS PRIEST, Halford said, "K.K. can never be replaced; he's unique, and we didn't want any kind of K.K. copycat. Richie Faulkner came to Glenn's [Tipton, guitar] house to jam, and Glenn simply told me he was absolutely brilliant."
Although PRIEST plans to stop touring after this run, the band will continue to record and intends to issue a new studio album in 2012.
Via Blabbermouth
Death Scream – Heavy Metal Reviews – Heavy Metal Interviews – Heavy Metal News