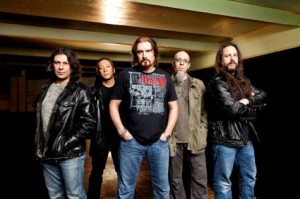 A little more than a month after drummer Mike Portnoy's sudden departure from DREAM THEATER, the band held three days of auditions in New York City. Over an incredibly productive three-day period, the band played, jammed and spoke candidly and at length with seven of the world's greatest drummers. The remaining members of the band got to know the candidates musically, personally and professionally and thus assessed the fit of each drummer's incredible chops with the band's trademark prog-rock sound.
After intense consideration, the band unanimously chose drummer Mike Mangini (EXTREME, STEVE VAI, ANNIHILATOR) to fill the seat behind the kit which was left vacant by Portnoy's departure late last summer.
DREAM THEATER began telling their intense tale on April 21 when the band took to its Facebook page to give fans a glimpse into the audition process. A video tool that was powered by new technology prompted fans to "like" the page in order to unlock exclusive content. Much to the joy of fans, a trailer for the three-part documentary series on the audition process was then revealed. Those that "liked" the page then received updates on when and where the actual documentary would be airing.
Artisan News Service spoke to DREAM THEATER guitarist John Petrucci about the audition process and the band's decision to turn it into a documentary. You can now watch the four-minute report below.
On the audition process:
Petrucci: "When we realized that Mike Portnoy really left and it sunk in that we had to find a new drummer, we started to think about, 'Well, how are we gonna go about doing this?' and 'Who do we know that would be somebody we would like to consider?' and 'Are there people that we don't know…?' We thought of all different things — are there unknown people that are somewhere in the corners of the practice rooms of the worlds, up and coming. And, of course, there are the people that we know, that we've played with before, or that we know professionally or whatever, and would they be interested? And we started to come up with a list, and we had a short list — [there were] not too many people on there. And then we started contacting them — 'Would you be interested?' and they said 'Yes,' and we set the whole thing up."
On making a documentary out of the new drummer search:
Petrucci: "The initial idea was, 'We have to film this.' That was our first thinking. 'We can't just do this and have no record of it. We have to film this.' So you think about, 'Oh, we'll give a video camera to our manager.' But then when we started to really think about it, it was like, 'Well, why don't do this for real? Is this something that maybe the label would be interested in.' And they were totally interested in it, and their production person really had some great ideas, hired an incredible director and film company to do it, and we went for it — we did it professionally. And I think they did such a great job."
On some fans' speculation that the drummer search/competition was "fixed":
Petrucci: "No. Of course we didn't know all along [who the new drummer would be]. It's just that Mike [Mangini] was the first guy, he was literally the first one to audition. And he came in there and he just knocked us out. He just has all of the elements; [all the elements] are just in place. So it's probably why it kind of came across that way; there was a very natural chemistry between all of us. He's like one of us — East Coast guy, Berklee… he's one of us."
On Mike Mangini being the first drummer DREAM THEATER ever played with other than Mike Portnoy:
Petrucci: "Up until that point, we had never played with another drummer, DREAM THEATER had never existed with another drummer, we never played with another drummer as DREAM THEATER, so it was like the first time we were kicking into a song with this stranger — not that Mike Mangini was a stranger — and it just blew us away. I mean, that could have [gone] any way. If it was somebody else or whatever… And it was like, 'Wow. We could have played these songs in front of an entire audience and it would have been perfect.'"
With the addition of Mangini to the band's lineup, DREAM THEATER moved forward into the studio to begin recording their third release for Roadrunner Records. Guitarist John Petrucci reprises his role as producer, and Paul Northfield (RUSH, QUEENSRŸCHE, PORCUPINE TREE) assumes the same engineering position that he has had on DREAM THEATER's previous two Roadrunner releases. The band will kick off a world tour in July 2011.
Via Blabbermouth
Death Scream – Heavy Metal Reviews – Heavy Metal Interviews – Heavy Metal News