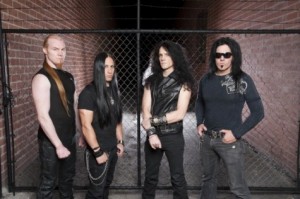 Relapse Mailorder is the only North American outlet to offer the deluxe, limited-edition wooden box set of MORBID ANGEL's brand new album, 'Illud Divinum Insanus". The box set includes the "Illud Divinum Insanus" CD in a real leather-bound book, "Illud Divinum Insanus" on double, 180-gram vinyl, two black candles with red wax blasphegrams, incense and incense burner, an exclusive MORBID ANGEL poster and full-color t-shirt. The box itself is a wooden six panel box with pull-out drawer and engraved markings. All of the items have been made exclusively for this limited edition and will not be available separately.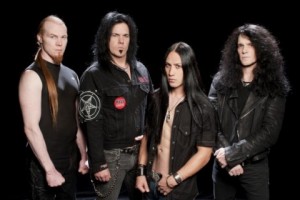 The "Illud Divinum Insanus" box set will be released in North America on June 21 and is available for pre-order at this location.
"Illud Divinum Insanus" will be released on June 7 (one day earlier internationally) via Season of Mist. The cover artwork was designed by Gustavo Sazes and can be viewed below.
"Illud Divinum Insanus" track listing:
01. Omni Potens
02. Too Extreme!
03. Existo Vulgoré
04. Blades for Baal
05. I Am Morbid
06. 10 More Dead
07. Destructos Vs. the Earth / Attack
08. Nevermore
09. Beauty Meets Beast
10. Radikult
11. Profundis – Mea Culpa
"Illud Divinum Insanus" will be available in the following formats:
* Wooden foldout box
* Metal starpak CD (outside North America)
* Deluxe digipak CD (North America only)
* Double gatefold LP with download card
* Jewel case CD
* Digital download
In a recent interview with AOL's Noisecreep, MORBID ANGEL bassist/vocalist David Vincent stated about "Illud Divinum Insanus", "It's awesome, absolutely awesome. I just want the damn thing out, but it's hurry up and wait. That's the story of the business. I wish it was out immediately. We are doing special packaging for it, and that doesn't help my anxiety of wanting to get it out."
He continued, "We made a masterpiece. I am going to call it that. There is not one bad track on this record. Of course I am going to say that, but I don't normally say such things. It is very unique and very diverse. We didn't go through the normal channels with production, so it's that's much more special because of the decisions we made."
He added, "We have grown out of the moniker of death metal. We call ourselves extreme music. There are too many boxes to put it in — so many descriptors! We play extreme music and it encompasses everything from incredibly fast and articulate fretboard gymnastics to the sickest, most moaning of riffs, to the usual things we do. We take it for a twist."
The "Nevermore" single will be made available on May 16 as a digital download and seven-inch vinyl single. The B-side is an exclusive version of new song "Destructos Vs. The Earth", remixed by COMBICHRIST.
U.K.'s Terrorizer magazine has posted a track-by-track description/preview of "Illud Divinum Insanus". Check it out at this location.
Via Blabbermouth
Death Scream – Heavy Metal Reviews – Heavy Metal Interviews – Heavy Metal News