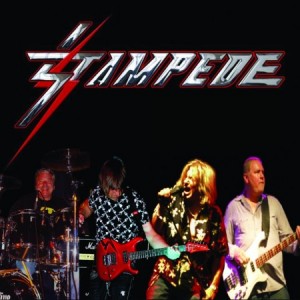 "Send Me Down An Angel", the new video from newly reformed British melodic rockers STAMPEDE, can be viewed below. The song comes off the band's new studio album, "A Sudden Impulse", which was released on May 9 via Grind That Axe/Rock Candy Records. The "Having Fun" single was made available on April 11.
"Having Fun" is STAMPEDE's first single in twenty-eight years. It follows previous singles "The Other Side" (1983) from the studio album "Hurricane Town", and "Days of Wine And Roses" (1982), which were released by Polydor Records and received considerable airplay on BBC Radio, Capital Radio and across Europe and Japan.
One of the most respected hard rock acts during the early Eighties, STAMPEDE signed to Polydor Records and released two albums of impressive melodic rock to both critical and commercial acclaim, being compared to earthy British bands such as UFO and HUMBLE PIE.
Following regenerated interest brought about by Rock Candy Records' reissue of "Hurricane Town" in 2006, the songwriting partnership of Lead singer Reuben Archer and Laurence Archer decided to reform the band in 2009. Together with original bassist Colin Bond, new drummer Steve Graystone and the addition of a second guitarist in the form of Chris Clowsley, the band has crafted a worthy, if not superlative, long lost follow-up to their studio debut in the opinion of label manager Derek Oliver, who describes the new material as "lean, mean, tough-guy hard rock with all the soulful delivery of classic British steel led by Reuben's instantly identifiable vocal and Laurence's blistering plank spanking burnouts."
Reuben strongly believes that welcoming additional elements to STAMPEDE have only served to strengthen the band, making the new material on "A Sudden Impulse" their most enjoyable studio experience yet. For example, twenty-year-old guitarist Rob Wolverson was invited to add his unique flair to the recordings as a result of Laurence being indisposed for a period because of personal commitments. Reuben explains: "We could have had several existing name players fill in during this time, but I'd known Rob for years and watched him grow into a real guitar whiz kid. He's also a great writer and brought a lot of vibrancy to the project. I just knew he was right for the job."
Commenting on the end result, Reuben adds:, "We have a harder sound now, the melodic hooks are there and I think we have a lot more edge than the first time around — especially due to our new powerhouse drummer Stevie G, and also Chris, whose strong rhythm guitar, vocal and guitar harmonies contribute enormously to the new sound. It has all resulted in making the reincarnation of STAMPEDE an even more exciting project for us."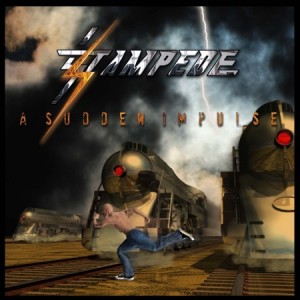 "A Sudden Impulse" track listing:
01. Send Me Down An Angel
02. Jessie
03. Having Fun
04. Make A Change
05. Hard Rock Hell
06. This Road
07. Homeward Bound
08. Shame On You
09. Natural Disaster
10. Humble Pie
11. Flaming Gold
Bonus tracks:
12. Recharged
13. Flaming Gold (acoustic)
For more information, visit www.facebook.com/stampederock.
Via Blabbermouth
Death Scream – Heavy Metal Reviews – Heavy Metal Interviews – Heavy Metal News