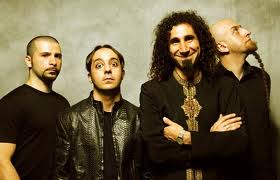 Fan-filmed video footage of SYSTEM OF A DOWN's May 24, 2011 concert at Forum in Inglewood, California can be viewed below.
The band's setlist was as follows:
01. Prison Song
02. B.Y.O.B.
03. Know
04. Needles
05. Deer Dance
06. Attack
07. Radio/Video
08. Hypnotize
09. Question!
10. Suggestions
11. Psycho
12. Chop Suey!
13. Lonely Day
14. Soldier Side – Intro
15. Soldier Side
16. Bounce
17. Kill Rock 'n Roll
18. Lost in Hollywood
19. Forest
20. Science
21. Holy Mountains
22. Aerials
23. Tentative
24. Cigaro
25. Suite-Pee
26. War?
27. Toxicity
28. P.L.U.C.K.
29. Sartarabad
30. Sugar
According to The Pulse Of Radio, SYSTEM OF A DOWN drummer John Dolmayan recently broke the silence around the band's reunion tour, which kicked off on May 10 in Edmonton, Canada. Speaking with Straight.com, Dolmayan said about the band's five-year hiatus, "I personally don't like breaks — I like to continue playing. But it was nice to go off and be John Dolmayan, as opposed to John from SYSTEM, for a while. I think everybody had similar feelings."
The drummer explained that a desire to pull off the road for a while and reconnect with their lives is what led SYSTEM to take an extended vacation from each other, saying, "When you're on the road and in the studio all the time, it's kind of like traveling at light speed. When you come back, it's like 20 years have passed by, and you're only one or two hours older . . . You're living a nomadic life, and you lose touch with people because they have grown away from you. People get older, get married, die — life is still going on."
Dolmayan admitted that he was lobbying to end the hiatus for the last three years, saying, "There's no real personality in the band that can be pushed to do anything that they don't want to. We are four very strong individuals."
But Dolmayan also said that the occasional clash of those four strong personalities led to the break as well, explaining, "We all have our idiosyncrasies and things that irritate the shit out of each other. Some of [singer] Serj's [Tankian] stuff irritates me, and I'm sure some of my stuff irritates the shit out of him. That's natural. You're in a relationship when you're in a band . . . But look at us — we've been together longer than most marriages last."
"And a band is a marriage," Dolmayan continued, "except that you don't have one headache, you have three to four headaches, and, on top of that, everyone having other people that influence each member. It's almost like a congress, there are so many people involved. Ultimately, though, we make the decisions because we are the band. Our relationships are all intact, and we always have a great time together. The other day, it took us 20 minutes to start a rehearsal because we were all too busy laughing. I don't even remember what was so funny, but that's a sign that we don't take things too seriously. We like to just get up there and play."
SYSTEM's last two albums, "Mezmerize" and "Hypnotize", were released in 2005. The band has not indicated whether it will work on new studio material or not after this tour is completed.
Via Blabbermouth
Death Scream – Heavy Metal Reviews – Heavy Metal Interviews – Heavy Metal News