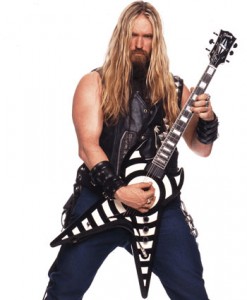 Gary Graff of Billboard.com recently conducted an interview with Zakk Wylde (BLACK LABEL SOCIETY, OZZY OSBOURNE). A couple of excerpts from the chat follow below.
On BLACK LABEL SOCIETY's new album, "The Song Remains Not the Same", an acoustic-oriented, unplugged style set that features new renditions of songs from 2010's "Order of the Black" as well as covers of personal favorites by BLACK SABBATH ("Juniors Eyes") and CROSBY, STILLS, NASH & YOUNG ("Helpless"), SIMON & GARFUNKEL ("Bridge Over Troubled Water") and BLIND FAITH ("Can't Find My Way Home"):
"It's another side of us that people haven't seen a lot of before . . . [It came about when I was] sitting behind a piano, just jamming on something, and I started singing 'Parade of the Dead' over it. We said, 'Dude, this would be a killer version of it. Why don't we just re-work all the heavy songs?' Obviously we didn't have time to do all of them, but they are completely different songs, not just mellower versions but different melodies and everything. The only thing intact is the lyric. That's the reason the title is 'The Song Remains Not the Same' — besides the fact we love [LED] ZEPPELIN."
On collaborating with country singer John Rich, whom Wylde first met at a Les Paul tribute concert in Nashville:
"John was like, 'Zakk, man, we ought to do something some time together. So when we ended up doing this mellow stuff, it was like, 'Why don't we call up John and see if he wants to sing on this track. We're both giving some money on it to charity, but it was a great chance to have John sing on something."
On BLACK LABEL SOCIETY's upcoming live performance DVD:
"[We'll] get a pedal steel player, some background singers, a string quartet…Just go the whole nine yards on this instead of just the full-blown, blow-it-out band. We have two (DVDs) out there with the full-blown band, heavy insanity. This'll just be something different."
Read more from Billboard.com.
Via Blabbermouth
Death Scream – Heavy Metal Reviews – Heavy Metal Interviews – Heavy Metal News