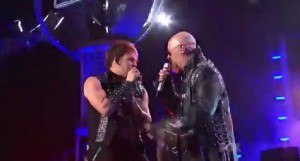 As first predicted here earlier today, British heavy metal legends JUDAS PRIEST performed during tonight's (Wednesday, May 25) season 10 "American Idol" finale. They hit the stage with James Durbin, the 22-year-old rocker from Santa Cruz, California, who was eliminated from "American Idol" earlier in the month but who made a return appearance during tonight's broadcast.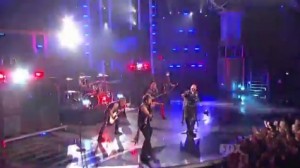 PRIEST and Durbin performed the band's classic songs "Living After Midnight" and "Breaking The Law".
JUDAS PRIEST's appearance on "American Idol" marked the band's first performance with the group's latest addition, 31-year-old guitarist Richie Faulkner (LAUREN HARRIS, DIRTY DEEDS).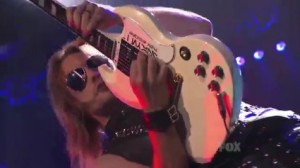 Durbin sang the JUDAS PRIEST classic "You Got Another Thing Coming" on the March 1 edition of "Idol". His rendition marked the first time, according to AEROSMITH singer and "American Idol" judge Steven Tyler, where a JUDAS PRIEST single was performed on the "Idol" stage.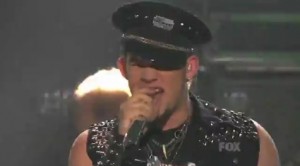 JUDAS PRIEST will launch the U.S. leg of its farewell world tour on October 12 in San Antonio and the band promises that it will go out with a bang. Singer Rob Halford said, "We're pulling out all the stops. We've built a brand new stage set, we've got all the effects that people love us for — the lasers, the fire, the bombs, the smoke, new costumes, and the bike. It's just a full-on metal extravaganza."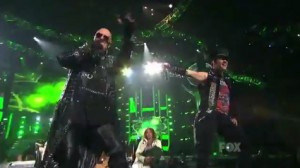 Guitarist Glenn Tipton added that the group will play something from each of its albums, including a few numbers that have never been performed live before. As for whether this is really the end of JUDAS PRIEST's touring days, Tipton added, "If somebody came along and said, 'Would you do a small string of dates,' we wouldn't automatically say no to that. But in general, this is probably the last chance you'll get to see PRIEST live."
Via Blabbermouth
Death Scream – Heavy Metal Reviews – Heavy Metal Interviews – Heavy Metal News