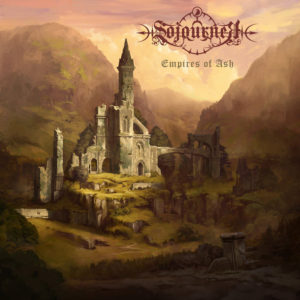 Orthographic New Zealand/Sweden's Sojourner, have graced us with their latest immense album offering, "Empires of Ash". Following up their last album, "Heritage Of the Natural Realm", the dribbling bass drum stoutheartedly announces another spectacular and proud, Epic Blackened Folk Metal journey.
The Sojourner listening experience: Guitars buzz and flute-filled crescendos ring as brazen, abrasive vocals careen. Enter images of evanescent, majestyk mountains encasing heroic all-too-human battles flashing incandescently by the mind's eye.
New empirically wondrous sojourns:
(every track a winner:) "Tales of the Earth", "Homeward", "Eons of Valor", "Trails of the Earth", "Bound By Blood", "The Pale Host". All one needs to do to fulfill the mood above  is to encounter, and subsequently resonate with, this illustrious new gem of an album.
And your reward, at it's conclusion, is the epic closing track,  "Empire of Ash": Magick.
Sojourner is: Emilio Crespo (Vocals & Lyrics) / Mike Lamb (Guitars, Piano, Synth, Drums) / Chloe Bray (Guitars, Tin Whistle, Female Vocals) / Mike Wilson (Bass)
– Rich Castle