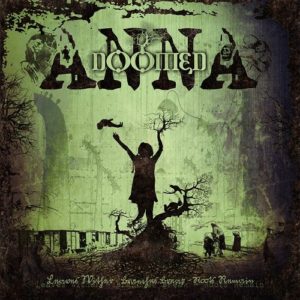 Ed Warby of Gorefest/Ayreon/Orphanage/Valkyrie fame is featured on Doomed's 5th album, "Anna" concept album, guesting as he does on "The Frozen Wish".  As the closing track on "Anna", "…Wish" features a  nice blend of Sabbat/Trouble-like tuneful singing — as it is — juxtaposed,  by lilting growling vocals and boldly adds a multiflous feather in the cap of a great album and crowns another rock-solid, crowning achievement for the ever-doomy Solitude Productions.
True to the usual intensity heard in German Heavy Metal from Thrash to Death, Netherlandic Doomed bring home the bacon with this starkly executed concept album monster, "Anna". It is a Byzantine mosaic, and maneuvers it way through distorted labyrinthine passage to emerge as a heady sure-shot end-of-year top-ten-Metal-album winner. Yet be forewarned, as "Anna" is as dark as an apocalyptic ocean.
Now, a  little background:
"Gorefest"'s 1991 LP, "Mindloss", was a hugely overlooked slab of Death (the band) worship. It was one of the best albums ever released in Death Metal history, in my humble opinion. I think it is incumbent on all fans of Doomed to go back and take another listen (or ten!) to it.
Get psyched.
Get Doomed.
– Rich Castle