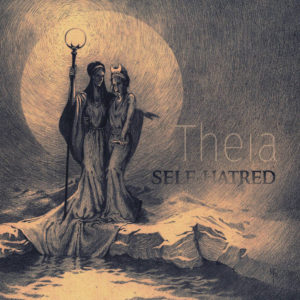 Czech's  Self-Hatred have just released "Theia".  "Theia" is a dark and surreptitiously atmospheric Death/Doom Metal tour-de-force armed with kick-ass drumming that reminds of the ravaging Rob Darken Polish warriors, Graveland.  And this comparison to Graveland can mean only one thing: "Theia" is dark, black, and cold.
"Guilt"/"Theia"/"Slither" comprise almost the first 15 minutes of this album, and suck the listener in to it's vortex of doom. From then on, there is no return. "Attraction" and "No Judgement" follow, as elongated and spectral sorrows form bestial colonnades in the listener's skull. Time for "self-reflection" at the 27-minute mark, with the band locking in with a seething menace and spiking clarity rarely witnessed in Death/Doom when the music is this dark. Siren vocals, that carry the album forward on dark and bestial angel wings, behoove the fact that there is indeed membership from Silent Stream Of Godless Elegy involved in "Theia"s haunting creation. "Memories" raps up affairs with crestfallen, ecumenical outpourings of pure majesty.
"Theia" could 've very easily have come from the pen of Dan Swano during his most cinematic best with "Edge Of Sanity".
It is quite an inspired work of art. 10/10 rating.  Simply spectacular and essential.
– Rich Castle