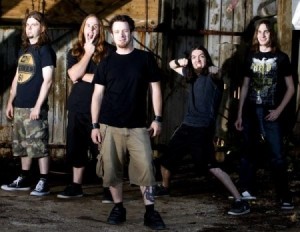 SOILWORK frontman Björn "Speed" Strid joined Canadian metallers THREAT SIGNAL on stage this past Saturday, May 7 at The Underground in Hamilton, Ontario, Canada to perform the SOILWORK song "Stabbing The Drama". Fan-filmed video footage of Strid's appearance can be viewed below.
THREAT SIGNAL is currently writing material for the follow-up to its 2009 album, "Vigilance". The band recently said, "We have been in pre-production for the last five months writing some killer new songs for our third release. We plan to hit the studio within the next few months."
THREAT SIGNAL recently parted ways with drummer Norm Killeen and guitarist Adam Weber and replaced them with Alex Rudinger from Frederick, Maryland and Chris Feener from Grand Falls-Windsor, Newfoundland, Canada, respectively.
THREAT SIGNAL last year completed the "Threat Over Europe 2010" headlining tour with RAUNCHY (Denmark), SYBREED (Switzerland), M.A.N (Sweden) and ILLIDIANCE (Russia).
THREAT SIGNAL's sophomore album, "Vigilance", sold around 1,100 copies in the United States in its first week of release. The CD landed at position No. 32 on the Top New Artist Albums (Heatseekers) chart, which lists the best-selling albums by new and developing artists, defined as those who have never appeared in the Top 100 of The Billboard 200. Released in September 2009 via Nuclear Blast Records, the CD was produced by vocalist Jon Howard and mixed by Greg Reely (FEAR FACTORY, FRONT LINE ASSEMBLY).
THREAT SIGNAL members Jon Howard and Pat Kavanagh are also involved with ARKAEA, the band featuring FEAR FACTORY members Raymond Herrera (drums) and Christian Olde Wolbers (guitar).
Via Blabbermouth
Death Scream – Heavy Metal Reviews – Heavy Metal Interviews – Heavy Metal News