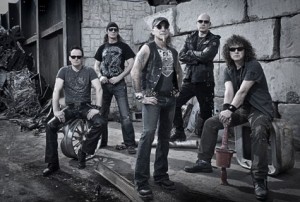 Reformed heavy metal legends ACCEPT were forced to play as a four-piece during their concert in Houston, Texas this past Saturday, May 7 after the band's guitarist, Herman Frank, suffered broken ribs and a punctured lung in a stage fall the previous night in San Antonio.
Commented bassist Peter Baltes: "Unfortunately, Herman had an accident during last night's show in San Antonio. He tripped and landed hard on his back. Even though he managed to finish the show, his pain became unbearable as we arrived in Houston (for the band's final night of the American portion of its tour). He was taken to the emergency room, where the doctors discovered four broken ribs and a punctured lung. He will remain at the hospital for now. Considering his condition, his spirit is great, and we all need to give our support to him as he recovers from his injuries. In the meantime, the band will continue the tour, and Herman will rejoin us as soon as he is all healed up and good to go."
Fan-filmed video footage of Frank falling down backwards while playing the song "Bulletproof" during the San Antonio concert can be viewed below. (Note: The incident in question occurs around the one-minute, 25-second mark.)
ACCEPT kicked off its massive "Blood Of The Nations 2011 Tour" of Europe on January 14.
The entire "Blood Of the Nations 2011 Tour" will involve over 80 mind-blowing concerts around the globe.
Via Blabbermouth
Death Scream – Heavy Metal Reviews – Heavy Metal Interviews – Heavy Metal News