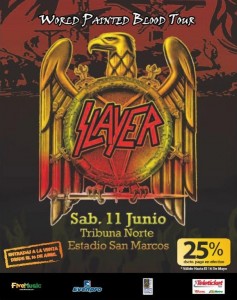 SLAYER performed in Lima, Peru for the first time ever this past Saturday, June 11 at Estadio San Marcos in front of 6,000 fans.
The band's setlist was as follows:
01. World Painted Blood
02. Hate Worldwide
03. War Ensemble
04. Postmortem
05. Temptation
06. Dittohead
07. Stain Of Mind
08. Disciple
09. Bloodline
10. Dead Skin Mask
11. Hallowed Point
12. The Antichrist
13. Americon
14. Payback
15. Mandatory Suicide
16. Chemical Warfare
17. Ghosts Of War
18. Seasons In The Abyss
19. Snuff
Encore:
20. South Of Heaven
21. Raining Blood
22. Black Magic
23. Angel Of Death
Fan-filmed video footage of the concert can be seen below.
SLAYER kicked off its South American tour with a headlining concert on June 2 at Movistar Arena in Santiago, Chile.
Gary Holt of EXODUS is once again filling in for SLAYER founding guitarist Jeff Hanneman who in January contracted necrotizing fasciitis, likely caused by a spider bite, and has been undergoing surgeries, skin grafts and intense rehab since.
Holt (EXODUS) has been the primary guest guitarist with SLAYER since the band started its 2011 touring schedule in February, and will continue in that capacity until Hanneman has completely recovered.
In a recent interview with Austria's Stormbringer.at webzine, SLAYER drummer Dave Lombardo stated about the decision to hire Holt as the initial temporary replacement for Hanneman, "Well, that was a hard decision to make. We had to think to ourselves, 'Do we cancel — again? Or what do we do? Do we keep going?' It was a difficult decision, but we had to make it — to find a guitar player to take Jeff's place until Jeff gets better. And Gary, really, was a no-brainer — meaning, we didn't have to think about it. Because at Hellfest in France [in 2010], Kerry [King, SLAYER guitarist] and myself were watching EXODUS. And SLAYER and EXODUS go waaay back. We go back to '83 or '84 when we first got together and did shows up in San Francisco together. So we saw Gary play with EXODUS [again last year], and we loved it. And Gary's performance was outstanding. So the first person that came to our minds was Gary — to take the place for Jeff. Again, it was difficult to make that decision, but we had to do it to fulfill our shows; we couldn't cancel again."
SLAYER bassist/vocalist Tom Araya told Billboard.com that the band will not return to the studio until Hanneman has fully recovered.
"There's no way we'd go into a studio without him," Araya said. "As a band we're not going to do something without him. He's an integral part of the band. We require his musical skills, his writing skills. He's an integral part of the band. So we're going to hold off until he's at 100 percent and can join that process and be part of it."
Hanneman stepped onstage with SLAYER at the April 23 "Big Four" concert in Indio, California, marking the first time he has played with the band since last October. Hanneman surprised the crowd of 50,000 when he walked out onto the stage, unannounced, and played the two-song encore, "South Of Heaven" and "Angel Of Death".
"It was a big deal for him to play — for us it was, too," Araya told Billboard.com. "We thought that would be a nice surprise for everybody and also make everybody aware that he's still there. It's pretty severe what he's going through. He's had skin grafts, and he's got to rehabilitate his arm and get it back in shape again. It's going to require a lot of time."
Via Blabbermouth
Death Scream – Heavy Metal Reviews – Heavy Metal Interviews – Heavy Metal News