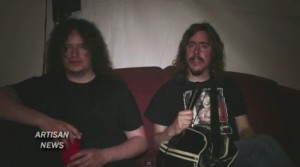 Swedish progressive metallers OPETH made their live debut with keyboardist Joakim Svalberg (YNGWIE MALMSTEEN, GLENN HUGHES) at the 10th annual Bonnaroo Music And Arts Festival on June 10, 2011 on a 700-acre farm in Manchester, Tennessee, 60 miles south of Nashville.
When asked by the Artisan News Service how playing Bonnaroo was different to performing at European festivals, OPETH vocalist/guitarist Mikael Åkerfeldt said, "It's very similar to European festivals. It's strange that there's not more festivals in the United States like this, as far as I'm concerned. But yeah, it was lovely. Good hospitality."
OPETH's setlist was as follows:
01. The Grand Conjuration
02. Face Of Melinda
03. The Lotus Eater
04. In My Time Of Need
05. Master's Apprentices
06. The Drapery Falls
07. Hex Omega
OPETH will embark on a North American headlining tour in September with support from fellow Swedes KATATONIA.
Keyboardist Per Wiberg, who joined OPETH in 2005, was relieved of his duties in April as part of a mutual decision with the remaining members of the band.
OPETH will release its tenth album, "Heritage", on September 20 via Roadrunner Records. The CD was produced by Mikael Åkerfeldt and was recorded earlier this year at Atlantis studios (formerly Metronome studios) in Stockholm. Mixing duties were handled by Steven Wilson (PORCUPINE TREE) and Åkerfeldt. Longtime collaborator Travis Smith also worked with Åkerfeldt to create, design and execute the album's artwork, which can be seen below.
"Heritage" will be released in several configurations that will certainly incite the interest of OPETH's legion of fans, known for their passion for collecting and collectibles. The album will be released as a standard version; as a special edition loaded with extras; as a box set exclusive to the Roadrunner and the band's own official Omerch webstore; and as a double LP. There is something for every OPETH fan, thanks to this variety of options.
Short performance clip:
Via Blabbermouth
Death Scream – Heavy Metal Reviews – Heavy Metal Interviews – Heavy Metal News