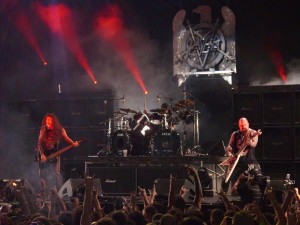 "I'm pretty sure God still hates us all": This line stood out in the new song that is available to anyone that clicks on the download link. Just give 'em your email . Sure!
The reason that line stands out is because Slayer's "God Hates Us All" studio album was released on September 11th, 2001. Many forget this. A mere co-incidence that the biggest Thrash/Death Metal band in the world releases an album as New York City and the Pentagon in Washington are attacked? Hell no!
Musicians live for energy. They live on energy. They feed on the energy that the crowds give back when they finish a song, in concert.
Their 8th studio album, "God Hates Us All", had a picture of what appeared to be a secreet holy book with a (right side up) cross imbedded in it. A madman seems to have very sloppily written the Slayer lettering in black ink that smeared all over the face of the book. The cover had to be sold with an "alternative slip insert" that showed 4 crosses connected. Two sideways crosses, one left and one right, and one cross right side up and one upside down. All 4 connected to form a lousy stupid drawing alongside the requisite industry-ordered "Parental Advisory — Explicit Lyrics" slapped on to the cover. Killing and religion and hatred and vengeance was the order of the day for this chapter in Slayer's history. (Not that that is surprising.)
"Darkness Of Christ", "God Send Death" and "Cast Down", along with "Here Comes The Pain" certainly just as song-titles alone gave one a creepy feeling when seen with the release date of that prophetic album. Track #12 "Scarstruck" was not on the European version of "God Hates Us All". Jeff Hanneman was very much alive then, yet Paul Bostaph was on drums not Dave Lombardo.
I have gone on long enough with talking about "God Hates…". Yet this is what this new song, "Implode" can be compared to. Yet it has the lyrical phrasing that made "Seasons In The Abyss" (The 5th Slayer studio album) such a winner in 1990.
SLAYER made one album after the other that completely smoked, and cleaned up the field with the competition. First they came out with the debut album "Show No Mercy" which thrashed like all hell. Then "Hell Awaits" came along and was dark, and scary and evil-toned. The 3rd album, "Reign In Blood" was a huge one for the band. "South of Heaven" was 4th and next. Another great SLAYER record followed: the aforementioned "Seasons In The Abyss". The next 5 Slayer studio albums, (and 1 Punk covers album), didn't have the magic of the first five. 2009's "World Painted Blood" showed signs of life, and boasted the manic cut, "Psychopathy Red", as the original four members of the band tried to rekindle the winning magic they once had.
Jeff Hanneman passing away is a major stumbling block to getting a new album out as he is so important when it comes to songwriting. Kerry King, incidentally, is credited for much of the "God Hates Us All" album and sadly the record screams for more Hanneman.
Metalsucks.net has an interesting editorial written on 5-02-14 that opines "Op-Ed: When Did Slayer Start To Suck?" It is by Vince Neilstein. It makes the case that I am making. It's painfully obvious that Slayer haven't put anything good out in "a long long time". Neilstein is convinced that Slayer are "extremely tired, boring and mediocre". He talks of The Cult of Slayer.
They sure are a cult unto themselves. Their shows are full of their greatest early hits. Yet it is on "Implode", this new one — that we hear Slayer without Jeff Hanneman (RIP) who died from a spider bite — and without Dave Lombardo on drums.
It may be possible that Hanneman wrote this new track. The upcoming new Slayer album's material is culled from the past 3-4 years. The album is expected to drop in early 2015.
It really sucks big time that the incredibly fast kick-drum sticksman Dave Lombardo is pis*ed off enough to be ranking on Slayer in the press lately, and justifiably so, because his drum parts are being replaced. Now that sucks.
The new song, "Implode" was debuted live when in April 2014 Slayer took the stage at the Revolver Golden Gods Awards and did three songs. "Implode" is the first new studio tune to come down the pike in five years.
Can you believe that Dave Lombardo has released his own band's album Philm with the title "Fire From The Evening Sun"? And it is the sophomore album by Philm. The first one, produced by Lombardo is called "Harmonic".
There are twelve songs on the new album and guess when it was released? September 12th, 2014. That would 9/12; geddit?
Philm are a very interesting band. "Corner Girl", "Turn In The Sky" and other songs where there is less screaming from the lead vocalist are delivered in a breath-filled emotive way. Philm are nothing like SLAYER. Elements of PRONG, the BEATLES and a very percussive delivery make them very interesting to listen to. When I first saw the album cover I was reminded of the RUSH album "Vapor Trails" because of the flaming ball of fire on the cover. A rebirth for Lombardo? I guess.
In the meantime, "Implode" is a very satisfying track. The words are smart and Araya does his usual acidic best in delivering them. Not as catchy as the "Seasons In The Abyss" title-track but along those lines.
I have a soft spot for Slayer. Alongside Sodom and to a lesser extent, Kreator and Destruction and Metallica — they Rock.
Slayer is still really heavy. Araya is experimenting with different vocal tones and it is working as "Implode". is actually kind of catchy.
Be among those who know the power and might, and sheer bedlam that Slayer can yield and queue up when the new album drops.
– Rich Castle