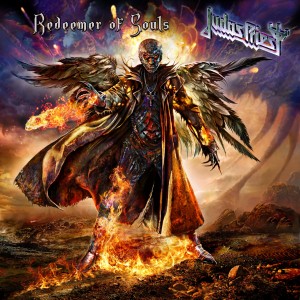 The mighty Priest chugs on with an album that is more Ozzy than when at last Priest recorded. And for good reason. Richie Faulkner is the new boy on guitar and the tagteam that he creates with Glenn Tipton has changed the musical dynamic of the U.K. outfit to the point where even the leather-clad (always) Bob Halford has to re-align his vocal chords to compensate for the 6-string changes.
"March Of The Damned" is the fifth track up and it takes that long for the olde Priest to find their leathery bite of yore. Granted, the title track "Redeemer Of Souls" is potent yet it is the creators of Heavy Metal we are talking about here. So things must be just simply perfect. J.P.'s past albums are masterpieces of Iron. Along with Black Sabbath the sub-genres of Power Metal and Speed Metal were germinated by this Brit outfit; taking off from the bluesy Hard Rockin' that had preceeded it at the dawn of the 1970's decade.
"Hell & Back" is "Fever" from "Screaming For Vengeance" brought up to date. Like Sabbath,, though — and this was especially true when they last put out their Heaven and Hell disc with Dio — we are simply in plodsville. "Metalizer" and "Beginning of The End" are surely distinct-enough entities though and the pace picks up on every song or three. My personal favorite is "Cold Blooded". The chunk and swirl of the Priestian guitars can be beheld and Rob is etching vocal sculpture into the template of this track.
Having bonus tracks to add up to 18 new numbers has the listener having to digest a lot of material. The sheer amount of tunes is what really wins it for the longsuffering diehard fan. "Nostradamus", the last album was put out way back in 2008 and "Angel Of Retribution" greeted the new millenium some years in; so new material is a treat. Halford's solo band could never compete with the Metal Machine that is the quintet that is Priest. When a number like "Tears Of Blood" gets rollin', it is like hearing one giant machine moving in synchronicity. "Redeemer Of Souls", ultimately, has the feel of "Defenders Of The Faith". And that is exactly what Judas Priest does best. And we hope they keep doin' it into perpetuity.
– Rich Castle