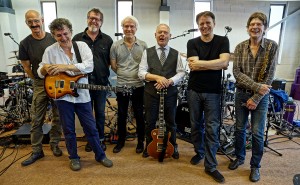 Though they are an indelible part of the 21st century, they are not exactly schizoid.
Longtime fans of the well-known progressive rock outfit King Crimson were probably on their way to becoming schizoid upon hearing that the band would be coming to New York City for four sold out shows at the Best Buy Theater for an untypical concert, one in which the band was not promoting a new album, nor playing mostly new music.
For the first time in a long time, King Crimson had planned to perform songs from their catalog; well-known to progressive rock fans.
Of course, the band includes its unique leader, Robert Fripp, on lead guitar, and Tony Levin on bass and stick.
But this unit also comprises three drummers – Pat Mastelotto, Bill Rieflin, and Gavin Harrison from Porcupine Tree.
Jakko Jakszyk follows in the vocal footsteps of Greg Lake, John Wetton, Gordon Haskell, and Boz Burrell.
But the big surprise for many Crimson fans is the addition and return of winds specialist Mel Collins, who appeared on the albums Lizard, Islands, and Earthbound –a live set.
Collins was able to substitute his saxophone and flute in place of one-time member David Cross' violin. The addition of Collins also gave fans a new way of hearing some old Crimson songs originally from Larks Tongues in Aspic.
At any King Crimson concert, while waiting for the band to come on stage, fans can sit back and doze off to the electronic sounds of Fripp putting his electric guitar through a computer looping system.
But then as more fans drifted in to fill up the seats, the PA system played a tape of band members discussing how fans should appreciate the concert.
Fripp is known for eschewing any type of recording of King Crimson shows.  He told the audience to treat the show as an interesting life experience and basically to "record with your ears and viddy with your eyes".
– Frank Giallombard