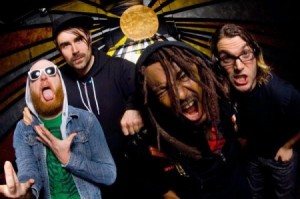 Bring The Noise conducted an interview with the Welsh "ragga metal" act SKINDRED at this year's edition of the Download festival, which was held June 10-12, 2011 at Donington Park in Leicestershire, United Kingdom. You can now watch the chat below.
SKINDRED released its fourth album, "Union Black", on April 25 via BMG/7pm Records. The CD was recorded at Britannia Row Studios in London with producer James Loughrey.
The band's "Warning" single is a no-holds-barred ragga rock monster of a tune which received its first exclusive play earlier in March on BBC Radio 1's "Rock Show".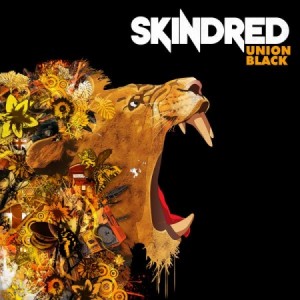 "I don't think I've been this happy with songs for years," bassist Dan Pugsley told U.K.'s Metal Hammer magazine. I know everyone always says that, but I'm just so happy to be doing the album in the U.K. We've never actually recorded in the U.K. [before]. Working with a British producer, who knows the more British reference points we have, is great. American producers are all about American radio and how you fit into that; if you put something 'different' out, radio just won't play it. We've had more freedom to 'create' on this album. It's not like we're going to be doing self-indulgent, wacky things, just stuff that people thought wouldn't work on American radio that we're not trying out — and it's working! The drum 'n' bass thing, the dancehall thing… we're embracing all the things that make us different."
Regarding the new album title, Webbe previously said, "'Union Black' is a celebration of the diversity of the U.K. We're all from different backgrounds, but there are so many of us here on this little island — from the Commonwealth and beyond — we're all kindred spirits of old Blighty. And it's 'black' because when you mix every color together, you get black!"
Via Blabbermouth
Death Scream – Heavy Metal Reviews – Heavy Metal Interviews – Heavy Metal News