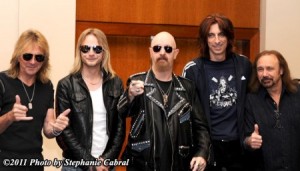 British heavy metal legends JUDAS PRIEST have issued the following update:
"We would like to clarify a situation that seems to be confusing a few people out there.
"When we issued our press release to announce the farewell tour, we stated that it was the last major world tour for JUDAS PRIEST. Nothing has changed — we didn't say it was the end of the band or that we were going to retire or the band was going to break up… just that it would be the last major world tour we would be doing, which is still the case.
"We have plans for a new album (which we have already announced in an earlier press release), plus possible future releases, and we would still consider doing the odd live show — if it is something special or for a great cause — but no more world tours."
JUDAS PRIEST headlined the final day of the Sauna Open Air festival, which was held June 9-11, 2011 in Tampere, Finland. This marked the third show of the band's "Epitaph" world tour, which is also serving as the live debut of the group's latest addition, 31-year-old guitarist Richie Faulkner (LAUREN HARRIS, DIRTY DEEDS), who replaced Kenneth "K.K." Downing in April.
JUDAS PRIEST's setlist was as follows:
01. Rapid Fire
02. Metal Gods
03. Heading Out the Highway
04. Judas Rising
05. Starbreaker
06. Victim of Changes
07. Never Satisfied
08. Diamonds And Rust (JOAN BAEZ cover)
09. Prophecy
10. Night Crawler
11. Turbo Lover
12. Beyond the Realms of Death
13. The Sentinel
14. Blood Red Skies
15. The Green Manalishi (With The Two-Pronged Crown) (FLEETWOOD MAC cover)
16. Breaking the Law
17. Painkiller
Encore 1:
18. The Hellion (taped intro) / Electric Eye
19. Hell Bent For Leather
Encore 2:
20. You've Got Another Thing Coming
Encore 3:
21. Living After Midnight
Fan-filmed footage of PRIEST's performance can be viewed below.
JUDAS PRIEST will launch the U.S. leg of its farewell world tour on October 12 in San Antonio and the band promises that it will go out with a bang. Singer Rob Halford said, "We're pulling out all the stops. We've built a brand new stage set, we've got all the effects that people love us for — the lasers, the fire, the bombs, the smoke, new costumes, and the bike. It's just a full-on metal extravaganza."
Guitarist Glenn Tipton added that the group will play something from each of its albums, including a few numbers that have never been performed live before. "Obviously it's the farewell world tour, so we've really gotta put a lot of the old favorites in there," he said. "We got a lot of feedback from our web page, we requested what people really wanted to hear, so we put a set together based on that. Plus we're playing at least one song from every album and we're doing stuff that we haven't played before, such as 'Never Satisfied', 'Blood Red Skies' and 'Starbreaker'. So there's a real mixed bag. Our mission, really, was to play at least song off each album each year and we tried to pick the songs that everybody wanted to hear. Obviously they'll always want 'Painkiller', they'll always want 'Hell bent For Leather'. We've got so many songs, it's really difficult to choose, and somebody is always disappointed. [But] I think we've covered most of them."
As for whether this is really the end of JUDAS PRIEST's touring days, Tipton added, "We don't plan on retiring. We've said that this is our last world tour. It takes a chunk out of your life — 18 months. We won't be doing any more world tours as such and in many parts of the world, it will be the last time people will get a chance to see us. But we're not gonna stop. We've got an album in the can now, we will start to write with Richie, there will be more albums, and who knows?! There might be a string of dates that we can manage to do. We're just not gonna do another major world tour. We've been doing it for 40 years and it's time to let the younger bands have the chance."
Via Blabbermouth
Death Scream – Heavy Metal Reviews – Heavy Metal Interviews – Heavy Metal News