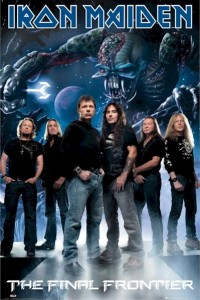 The song "Rime Of The Ancient Mariner" from IRON MAIDEN's fifth studio album, "Powerslave" (which came out in 1984), is being used in a two-minute animation film as part of Why Music Matters, a multimedia campaign designed to stress the importance of paying for music instead of stealing it. Check it below.
Commented the band: "A while back EMI Records approached us regarding the very worthy sounding Why Music Matters campaign — an initiative to try and bring awareness to the value of music. The short animation film that they commissioned with our approval has now been released."
The Why Music Matters campaign, which involves major CD, digital, and mobile retailers, as well as the major record labels, identifies all the outlets where consumers can legally purchase music and also tells the stories of iconic musicians whose work continues to resonate and influence music being made today.
Why Music Matters has reportedly received significant funding from the British Phonographic Industry and claims to be more than just an anti-piracy campaign. Its literature states: "There is an ethical choice when it comes to consuming music and this campaign serves to educate people to these choices. If you want to consume music for free, there are legitimate ways this can be done."
Via Blabbermouth
Death Scream – Heavy Metal Reviews – Heavy Metal Interviews – Heavy Metal News