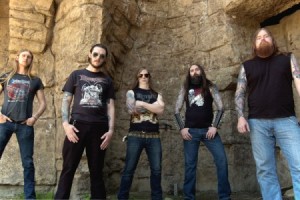 Ohio metallers SKELETONWITCH entered a Los Angeles studio today with producer Matt Hyde (SLAYER, MACHINE HEAD, KREATOR) to begin recording the follow up to 2009's "Breathing The Fire". Due this fall via Prosthetic Records, the as-yet-untitled effort will include the track "The Infernal Resurrection", the demo version of which appears as the B-side on the soon-to-be-released seven-inch single, which constitutes the final part of a limited-edition vinyl trilogy. This will mark SKELETONWITCH's first recording with the group's new drummer, former DEMIRICOUS skin-pounder Dustin Boltjes.
Commented SKELETONWITCH guitarist Scott Hedrick: "Waiting fucking sucks! So, after months of writing, it's great to finally be in the studio tracking the new album.
"It's not rocket science… it's epic, it's brutal, it's fucking SKELETONWITCH! We can't wait for everyone to hear it.
"We'd also like to officially welcome aboard our newest member Dustin Boltjes. He's a great fucking dude and an animal behind the kit. We couldn't have found a better fit."
Immediately following the new album recording sessions, SKELETONWITCH will head to Europe for a run of dates which will include stops at several festivals. The band will also take part in a fall North American tour with CHTHONIC and two other as-yet-undisclosed bands.
SKELETONWITCH's latest album, "Breathing the Fire" (2009), debuted at No. 151 on The Billboard 200 chart and No. 2 on the Top New Artist Albums (Heatseekers) chart, which lists the best-selling albums by new and developing artists, defined as those who have never appeared in the Top 100 of The Billboard 200. It was SKELETONWITCH's second full-length release for Prosthetic Records, with whom the band recently extended its recording deal.
Via Blabbermouth
Death Scream – Heavy Metal Reviews – Heavy Metal Interviews – Heavy Metal News