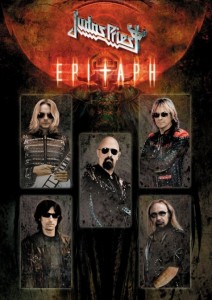 The two-hour-plus Season 10 finale of the Fox singing competition "American Idol", which featured a performance by JUDAS PRIEST, attracted 29.3 million viewers. According to USA Today, that's a 21% increase over last year (24.2 million). The May 25 broadcast also was up 12% in young adults (18-to-49) compared to the Season 9 finale.
Durbin sang the JUDAS PRIEST classic "You Got Another Thing Coming" on the March 1 edition of "Idol". His rendition marked the first time, according to AEROSMITH singer and "American Idol" judge Steven Tyler, where a JUDAS PRIEST single was performed on the "Idol" stage.
"It's just amazing, it really is," PRIEST singer Rob Halford tells FoxNews.com's "Fox 411″ (see video below). " We've gotta say thank you to James and to 'American Idol' for putting heavy metal music into 30 million American homes week after week. He's become a hero of ours."
Halford continued, "We had no idea that [James] was covering this song by PRIEST. All of us back in the U.K. and various locations around the world, our phones [were going off] with texts. 'Can you believe what's happening?' We were absolutely thrilled."
"James is epitomizing heavy metal, because it's the type of music that we've always had to fight for, really," added PRIEST drummer Scott Travis. "So the fact that he got eliminated quicker than some people wanted him to, and he's still around and he's probably gonna have a long career. And it's the same sort of thing we've had to deal with."
PRIEST and Durbin performed the band's classic songs "Living After Midnight" and "Breaking The Law".
JUDAS PRIEST's appearance on "American Idol" marked the band's first performance with the group's latest addition, 31-year-old guitarist Richie Faulkner (LAUREN HARRIS, DIRTY DEEDS).
"Fox 411" report:
Via Blabbermouth
Death Scream – Heavy Metal Reviews – Heavy Metal Interviews – Heavy Metal News