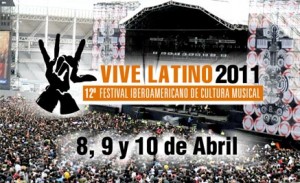 Two separate interviews with Brazilian/American thrashers SEPULTURA conducted at this past weekend's Vive Latino, the annual rock music festival held in Mexico City, can be viewed below. (Note: SEPULTURA frontman Derrick Green gives his answers in English while the band's guitarist, Andreas Kisser, responds in Portuguese.)
SEPULTURA will be joined by the Orquestra Experimental de Repertório (conducted by Jamil Maluf) during the band's appearance this Saturday, April 16 at the Virada Cultural festival in São Paulo, Brazil. Special arrangements were made and songs that were never played before by SEPULTURA will be performed at this concert. The band will appear at 11 p.m. on a stage located right in front of 110-year-old Luz train station in downtown São Paulo.
Virada Cultural is the biggest festival in São Paulo, and it is organized by the Secretariat of Culture of the São Paulo City Council. Over the course of a 24-hour period, locals and tourists divide their time among hundreds of attractions; approximately 330,000 people were expected last year.
SEPULTURA's new album, "Kairos" (an ancient Greek word signifying a time in between, a moment of undetermined period of time in which something special happens) is tentatively due this summer via Nuclear Blast Records. The artwork for the CD was created by Erich Sayers, a Los Angeles-based freelance digital artist and photographer whom SEPULTURA first met at the band's recent concert at the House Of Blues in West Hollywood, California.
SEPULTURA's new CD was recorded at Trama Studios in São Paulo, Brazil with producer Roy Z. (JUDAS PRIEST, HALFORD, BRUCE DICKINSON, HELLOWEEN). 13 tracks were laid down during the sessions, including cover versions of MINISTRY's "Just One Fix" and THE PRODIGY's "Firestarter".
Via Blabbermouth
Death Scream – Heavy Metal Reviews – Heavy Metal Interviews – Heavy Metal News