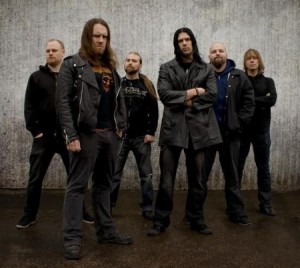 "The Unseen Empire", the new album from Swedish progressive melodic death metallers SCAR SYMMETRY, will be released on April 15 in Europe and May 17 in North America via Nuclear Blast Records.
The track listing for the CD is as follows:
01. The Anomaly
02. Illuminoid Dream Sequence
03. Extinction Mantra
04. Seer Of The Eschaton
05. Domination Agenda
06. Astronomicon
07. Rise Of The Reptilian Regime
08. The Draconian Arrival
09. Alpha And Omega
The song "Extinction Mantra" is available for streaming on the SCAR SYMMETRY Facebook page.
A track-by-track commentary on "The Unseen Empire" by the band's drummer, Henrik Ohlsson, is available in the YouTube clip below.
Commented Ohlsson: "'The Unseen Empire' seeks to expose the hidden hand of the elite that pull the strings of mankind in order to fulfill their agenda of global domination. The album concept goes from theories of shadow governments to secret ancient bloodlines and even further into speculations of malevolent influence from metaphysical reptilian-based intelligences. Mankind's only hope to survive seems to be an internal awakening where the influence of the unseen empire that rules in secrecy is washed away from the minds of the masses. They want us to stay within the framework of their agenda, hypnotizing us with things that draw attention but has no value. It's time to step outside the framework and make 'the unseen empire' visible!"
Check out the CD cover artwork below.
A new SCAR SYMMETRY song entitled "Illuminoid Dream Sequence" is available for streaming using the SoundCloud player below.
SCAR SYMMETRY's last album, "Dark Matter Dimensions", was released on October 2, 2009 via Nuclear Blast Records.
The band parted ways with singer Christian Älvestam in 2008 due to "business and creative differences and lack of interpersonal chemistry." He has since been replaced by Roberth Karlsson (lead growl vocals and backing clean vocals) and Lars Palmqvist (lead clean vocals and backing growl vocals).
Via Blabbermouth
Death Scream – Heavy Metal Reviews – Heavy Metal Interviews – Heavy Metal News